By Janie Southard
jsouthard@dailystandard.com
ST. MARYS -- Call them spinners, twirlers, swing tops or quizzes, Jerry Wesner boasts a collection of more than 400 colorful little yo-yos.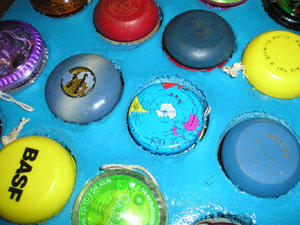 "I started collecting yo-yos about 20 years ago after I saw a picture of a bunch of them in a book. It just looked real neat," Wesner, 65, says while in his rural St. Marys home where the basement is neatly stocked floor to ceiling with all kinds of antique toys.
Part of his yo-yo collection is presently on display at the Community Public Library in St. Marys.
Along with many folks who grew up in the 1940s and '50s, Wesner remembers when yo-yo demonstrators from the Duncan company came to his school and put on a demonstration of snappy tricks, like walk-the-dog, the waterfall, man-on-the-flying-trapeze and others.
"They made it look easy, of course. And we kids thought we could go right out and do all that if we had a Duncan yo-yo," says Wesner, a guy who retains a lot of childlike enthusiasm for his various toy collections. Sometimes the Duncan man would give kids yo-yos and might even carve a picture or the kid's name on the wooden toy. "That was really neat," Wesner says.
He has a pink jeweled yo-yo in his collection with a sunset and the name Judy carved on it.
He has examples of almost all types of yo-yos including several "whistlers," yo-yos with holes drilled in the shoulders, which result in whistling when the yo-yo twirls up and down its string, and metal yo-yos. His favorites are the old metals with a lithograph on the face.
Beginning in the 1930s, yo-yos were used as an advertising tool sporting slogans and logos for such companies as Burger King, Mr. Peanut, Oreo, Keds, Buster Brown Shoes, Dodge Trucks, G.E. and thousands more.
Wesner has local yo-yos advertising the city of Celina (white with a green lighthouse), Celina Bulldogs, St. Marys Roughriders and a couple companies from New Bremen and Minster.
In a nutshell, the history of the yo-yo begins in the Orient about 1,000 B.C. Grecian vases from 500 B.C. have been found with an illustration of a child playing with a yo-yo.
In England in the late 1700s, yo-yos (called quizzes) were common, in France they were called l'emigrette. Later in England they came to be called bandalore; in France, it became a jou-jou.
In the early 1920s Pedro Flores opened two yo-yo manufacturing companies in California, and in 1930 received registration of the trademark "Flores Yo-Yo."
The same year the company Duncan arrived on the scene, and in 1932 received registration for the trademark "Genuine Duncan Yo-Yo."
Wesner attends at least three auctions a week on his quest for old toys. So far he hasn't a lot of trouble finding yo-yos, although he often finds them in boxes containing a lot of other stuff.
"You know, I never went to a public auction until I retired but now I go all over, sometimes five times a week. I just can't get enough of it. I've met a lot of people, regulars and we have a kind of club," he says, adjusting a piece on a merry-go-round he built with a 1950s era erector set. (He has several mint condition erector sets in original metal boxes including a "Constructionnaire" set made by an Urbana company.)
Wesner observed that everything is collected by someone.
After giving it some thought, he thought at one time he might collect banana labels like the small Chiquita label on a bunch. But, he quickly discovered there are a lot of banana label collectors.
"I now think the only thing someone doesn't collect is the cardboard rolls from the middle of toilet paper. It wouldn't make a very pretty collection though," he chuckles.