By Lance Mihm
lmihm@dailystandard.com
Local elections officials aren't happy about Ohio Secretary of State Kenneth Blackwell's decision to mandate optical scan voting machines, instead of touch screen systems.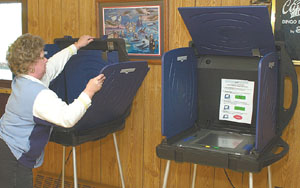 Auglaize County already has been using touch screen voting for two years, but had not yet purchased the machines.
"We are lucky we had not made these purchases," Auglaize County Elections Office Director Jean Burklo said. "There are some counties that have already purchased them and now they are stuck ... some don't even have them paid off yet. And now they have to get different machines. We were lucky."
"I feel the optical scan is taking a step back rather than a step forward," Mercer County Elections Office Interim Director Diana Grile said. "We were given two years to select a (touch screen system), and then all of a sudden we were given one month to select an optical scan machine. I think that has angered a lot of people."
Blackwell on Jan. 12 ordered Ohio elections boards to select an optical scan unit by Feb. 9. Most elections boards had been looking into purchasing touch screen voting machines that were supposed to be implemented by this November election. However, Ohio's General Assembly recently passed Senate Bill 262, which requires all voting machines to have a paper audit trail for each ballot. The touch screen machines do not have a paper trail for each ballot.
The state also did not have enough federal money to help each county pay for new touch screens. Counties will receive money to help pay for the optical scan machines.
The optical scan system is where the voter fills in a circle on the ballot, which the board of elections then runs through a scanning machine.
James Lee, a spokesperson at the Secretary of State's office, said Blackwell was forced to make the move to become compliant with the Help America Vote Act in time.
"It became apparent we couldn't keep the touch screens and be compliant with all the requirements of Senate Bill 262 in time," Lee said. "We were given a different set of rules, and we had to adjust accordingly."
Counties will have a choice between two available optical scan systems, ES&S and Diebold. The Mercer County Elections Board tentatively plans to purchase the Diebold system and says they will commit fully after an election board conference in Columbus this week. Auglaize County board members plan to meet in early February to select a system.
Mercer County has been using punch cards, with the exception of using a Diebold optical scan test unit in the March 2004 primary, Grile said.
The major cost officials in both counties have encountered due to Blackwell's recent decision is training.
"We have lost numerous hours in sending board members, office workers and poll workers to training classes," Burklo said.
Phone: (419)586-2371, Fax: (419)586-6271
All content copyright 2005
The Standard Printing Company
P.O. Box 140, Celina, OH 45822