By Gary R. Rasberry
grasberry@dailystandard.com
The Midwest Athletic Conference and Western Buckeye League races will heat up once again as the top teams in both leagues will receive some big challenges this Friday.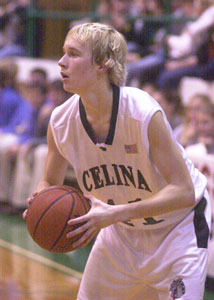 Celina will get a chance to solidify its hold on a top spot in the WBL when Ottawa-Glandorf comes to the Fieldhouse
The Titans are far removed from their glory of last season in capturing the Division II state title a year ago. Coach Dave Sweet has started to mold this young team after losing twins Eric and Tim Pollitz, who have taken their hoops duet to Miami (OH).
Yet the Titans were at the top of the league standings, despite a 5-7 record, last week at 3-1 before losing to state-ranked Van Wert, 55-47, to drop to 3-2 in the league.
The Titans graduated eight seniors -- four of them starters -- from last year but the Titans are starting to get those young players playing O-G's brand of tenacious basketball. Only Garrett Lauf returns to the starting lineup as the point guard for the team. It's almost the mirror image for Celina as the Green and White graduated 10 seniors and all five starters. The Bulldogs, however, have gelled a little quicker after an important 31-30 upset over Elida to take over a share of first place. The Bulldogs went through the extremes last week. On Monday they had to hold on to beat a Kenton team that hasn't won for nearly 21/2 years, then enjoyed a large margin of victory over Bath before coming back from eight points down to beat Coldwater in a big rivalry game.
Celina will need to be wary of the Titans as usual since O-G has beaten some strong teams this season, including WBL-co-leader St. Marys.
Ottawa will need to be concerned with matchups.
Celina boasts a relatively tall frontcourt that can also take the shot from long-distance.
Saturday, Coldwater did not get far enough out in its matchup zone defense, allowing Celina to hit some big threes to take momentum in the game.
The Big Matchup -- Jordan Pothast vs. Scott Luthman
Pothast was on the bench as a sophomore last season for the Titans and moved into the starting lineup with ease this season.
The 6-1 junior has been the leader when it comes to scoring. Pot-hast leads the team with a 13.8 point per game average and is a threat from behind the three-point arc, making 16 three-pointers this season.
Luthman has become a solid offensive option for Celina as the season has gone on to go along with Brandon Wurster and Aaron Braun.
The 6-4 junior had 16 points to lead Celina in Friday's win over Bath and added seven in the Saturday victory over Coldwater.
Luthman has raised his scoring to 11.2 ppg., second on the team with Wurster. Luthman leads the team in rebounding at 5.5 rpg. Ottawa will need to be wary, his 38.7 percent three-pointer rate (12-of-31) is tops on the team.

Minster at St. Henry
Redskin Gymnasium will be packed early as St. Henry will look to try and get back into the MAC race and will keep and ear out for updates from Delphos. A win over Minster takes the Wildcats from the top spot in the conference. If Fort Recovery beats St. John's at the Vatican, St. Henry stakes its claim for the MAC lead, something that the Redskins have been fighting for since losing its only MAC game on Jan. 2 at St. John's
Minster has quietly worked its way to a 11-2 start. Instead of the post power mixed with long-range bombing that had been the forte of Mike Lee's team in the past, a smaller-quicker lineup has dominated teams this season.
The Wildcats are riding a six-game winning streak after seeing their 5-0 start stalled by back-to-back losses to St. Marys and Ottoville. Since, Minster has been in control, winning by an avearge of 12 points per game in the winning streak.
The main thing St. Henry needs to worry about is ball control. The Redskins are averaging 12.7 turnovers per game this season. Minster averages 12 steals per game and their opponents have turned it over 266 times against Minster (20.5 per game). St. Henry has had trouble with turnovers this season. A couple of miscues at the wrong time could have Minster going the other way for some easy scores.
Minster's concern has to be height. The tallest player on the roster is 6-5. Although the Wildcats have some strong rebounders -- with two averaging 5.8 rpg. or better), they will still have to deal with St. Henry's size and control in the paint. Minster has given up an average of 8.5 offensive boards per game. Minster cannot allow St. Henry second chances at the hoop.
The Big Matchup -- Justin Spillers vs. Ross Niekamp.
Spillers is the big man for the Wildcats. The 6-5 senior will be called on to control the paint on both ends. Spillers has done well this season, leading the team in rebounds with 6.2 per game to go along with 8.4 ppg.
Niekamp has gone from the outside shooter to the power forward in the line. The 6-5 senior, son of head coach Joe Niekamp, averages 6.8 rebounds per game, second on the team behind Kurt Huelsman, and adds 9.2 points per game. Even though he has become more of an inside player, Niekamp can still hit the trey, making 10 this season.

Coldwater at Marion Local
The seasons for the Cavaliers and Flyers have been head scratchers for both coaches.
Don Vogt has had to replace some big scorers on his team and has been playing strong defense this season. The big problem has been finding a consistent offense.
Last weekend saw the Cavs with perfect chances to pick up big wins, only to hit a cold spell that turned games into tough losses. Coldwater went from 4-2 to 4-8 in a span of three weeks, thanks to a six-game losing streak. Vogt has been positive with his team, especially with the defense. Most of his comments after games this season have been positive and that good things should be coming around.
The Flyers have been up and down. After losing three straight to start the season, the team won three straight before losing three of their last five, including getting swept this weekend by Fort Recovery and a Wapakoneta team that has made a turnaround this season.
With both teams looking for a positive this weekend, the matchup should make for an interesting battle between two teams that have come up with big games against each other in the past.
The Big Matchup -- Mike Lefeld vs. John Alexander
Lefeld has been a consistent player for Vogt this season. The 6-1 junior had nine points over the weekend and is averaging 5.3 points per game. Lefeld also leads the team in assists with 2.6 per game
Alexander has received more playing time from coach Keith Westrick as the season has gone on. The 5-9 senior scored 12 points in Saturday's loss to Wapakoneta.
In six games this season, Alexander is averaging 5.5 points and 2.2 assists per game.

Fort Recovery at St. John's
The Indians, at 3-3 in the MAC, are looking to play spoiler and make teams like Versailles, St. Henry and Minster happy when they head to Delphos on Friday.
St. John's has been dominant over the course of the season, losing just one in the last 10 games after opening the season with a loss to Crestview. One thing that may be a factor is that the Jays won a hard-fought game at Versailles on Tuesday. Depending on how physical the game is, the Blue Jays might suffer through some fatigue if the game gets physical.
Fort Recovery will have to overcome the sixth-man of the team -- the venue. Bob Arnzen Gymnasium, dubbed 'The Vatican' by fan and foe alike, is one of the toughest road trips to make. The Blue Jays certainly do not mind, considering their 7-0 record at the gym.
The Big Matchup -- Travis VanSkyock vs. Chad Reynolds
Both are around 6-6, lanky and have the ability to take their game inside and outside.
VanSkyock is coming off a 20-point night against Arcanum on Saturday, keeping his team-high average around 15 points per game. VanSkyock also had the ability to pull down the boards, leading the team with a healthy 7.2 caroms per game. The matchup threat comes when he takes his shot beyond the arc. His 22 three-pointers is among the best in the Grand Lake area.
Reynolds also loves to hit the long one, ranking second to teammate Matt Webb in the area with 29 treys. Reynolds leads the Blue Jays in scoring at 16.1 per game and averages 6.1 rebounds per game.

Parkway at New Bremen
The Panthers are coming off one of its best efforts in a MAC game this season. Parkway went to the wire before losing by just six points to St. John's.
New Bremen suffered a small setback in losing to Versailles on Friday night, putting them under .500 in the MAC at 1-2.
A win for either team can only help in motivation for either team. A Cardinal win could keep them in the race for the MAC title should the top two teams suffer defeat on Friday. A Parkway win to get them to 3-9 would be positive for a team that is still young and could lead to a nice streak.
The Big Matchup -- Mark Snyder vs. Justin Brown
Snyder continues to be one of the top big men in the area, averaging 15.6 points and 9.7 rebounds per game. etting additional scoring from the likes of Jordan Heckler, Justin Hamrick and Jordan Thompson has taken some of the focus off Snyder, who will still need close watching.
Brown has been a solid center for coach Mike Ernst. the 6-6 Brown averages 7.5 points and five rebounds per game this season.

St. Marys at Kenton
The Roughriders will look to keep hold of their claim of the WBL lead with the trip to Hardin County against the Wildcat team that has a losing streak that reaches 36 games.
The game is part of a tough week that started close win over Defiance on Tuesday and concludes with a battle at Coldwater on Saturday.
The Wildcats are coming off a rough loss to Wapak on Friday and another to LCC on Tuesday. The last Kenton win came towards the end of the 2002-03 season to Toledo Woodward.
St. Marys can't go into the game thinking 'win' off the bat. Celina can attest to that after holding off Kenton for an eight-point win last week.
The Big Matchup -- Adam Johns vs. Chase Hommel
Johns first came to notice when he was a callup last season when several injuries left the Riders short. He played his first game against St. John's scored the winning bucket.
Johns has settled in as the post threat for the team, averaging 11.6 points per game.
Hommel has been one of only a few bright spots this season, although Wapak kept him in check on Friday, holding him to two points.

Versailles at New Knoxville
The Tigers will look to try and keep their MAC hopes alive against the Ranger team looking to rebound from having their three-game win streak snapped after losing to Minster last week.
Versailles had to contend with St. John's on Tuesday, losing by 16 points, and face state-ranked Ansonia on Saturday.
New Knoxville had Fort Jennings on Monday. The Rangers will need to keep aware of a stonger scoring Tiger team from the start of the season.
The Big Matchup -- Joe Shardo vs. Dustan Kruse
Shardo reached the 1,000-point plateau against Russia on Saturday. The 6-5 senior is among the area's best scorers and has completely recovered from the torn ACL suffered at the regional final that prevented him from playing in the state semis and final.
Kruse is a veteran of the Rangers, having seen time since his freshman season. The junior had 14 points in Friday's loss to Minster. Kruse leads the Rangers with 14.8 ppg.