By Gary R. Rasberry
grasberry@dailystandard.com
Given the sudden impact they made in the opening three matches, Celina did not want to have any lingering questions about finishing the Western Buckeye League dual season undefeated.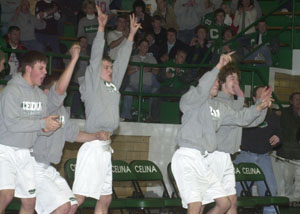 Celina scored three pins in the first three matches and never trailed from there in completing its second straight 9-0 dual meet season with a 38-27 win over Defiance in front of a large Celina turnout at the Fieldhouse.
The MatDogs are 18-0 the past two seasons and the senior class completes its career at 33-3 in the league. Defiance drops to 6-2 with a dual match against St. Marys next week before the WBL tournament at Elida next Saturday.
"It's unbelievable, really," said senior Cody Wagner. "Dad (Celina assistant coach Terry Wagner) and coach Zac (head coach Joel Zacharias) have done a great job with us. They keep us disciplined. We just work hard all year. That's why this has happened."
Celina got the night rolling with a luck of the draw for weights. The teams started at 171 and senior Jantzen Hinton went right to work on Matt Gray, getting the takedown and working until getting the pin at 1:25. Trent Hellwarth stepped up next and scored a takedown on Frank Page scoring two backpoints. It looked like the bout would go to the second period but Hellwarth was able to keep Page's shoulders down to get the pin with two-tenths of a second remaining to get the win.
The win was a milestone for the senior as he became the second Celina wrestler to tally 100 wins for his career, joining Brad Laux.
"It's really no big deal," said Hellwarth. "I just had the privilege to wrestle as a freshman. There's other guys out there who have as good a chance as I do to get 100 wins."
Zach Mertz made it 18-0 with a pin over Jordan Trejo in 5:22. Defiance finally got on the board when Greg Brown reversed Sam Eshelman early in the second period and got the pin in the 275 bout in 3:17.
"We started at probably one of the best places we could start," said Celina coach Joel Zacharias. "I knew it was going to be tough. (Defiance) wrestled Elida tough. I know Wapak pretty much blew them out the other day, but I knew how we matched up and I knew there was going to be a lot of tough matches."
The excitement picked up as the lighter weights made their way to the mats. At 103 pounds, Tylor Thees trailed 2-0 to Zach Hurst before getting a reversal in the second period. In the third, Thees battled to keep Hurst from scoring near-fall points and looked to have scored the escape before the horn sounded in the third. The official, however ruled that the escape came after time ran out, setting up overtime.
In the 60-second session, Thees tried everything to take Hurst down. Finally with under 30 seconds remaining, Thees broke up Hurst's shoot and scored the takedown for the 4-2 win.
Defiance went on a streak of its own starting at 112 to get the match to its smallest margin of the night.
Same Carrisalez used a reversal and three back points against Andy Swain to win 9-2 making it 21-9. Jack Dennis followed up by getting a big takedown on Cody Koesters and getting the pin at 3:14. At 125, David Carrisalez scored an early takedown and got a reversal late in the third period to beat Patrick Bailey 4-0 to cut the Celina lead to 21-18.
Nick Gray got Celina's fortunes back on track at 130 with a 10-2 major decision over Brandon Plummer. After Kiel Hawk lost to Jamie Ashbacher 7-2 at 135, Celina's Wagner cruised past C.J. Wagerhouser 9-2 to put the lead at 28-21. Defiance, which had to void either 145 or 152, chose to keep Garrett Gray from competing and moved up Chase Sobieck to face Kyle Knouff, although the void-out gave Celina the win with 34 points since the most Defiance could muster was 12 in the last two matches.
Sobieck made the decision a good one as he pinned Knouff in 3:49 to make it 34-27. Dan Knoth posted a win with a 12-2 major decision.
"This was the best match we've put together," said Defiance coach Matt Detrich. "We couldn't ask anymore out of our kids. ... Give Celina credit again. They're a very fine team. I wish them the best of luck next weekend (at the WBL tournament). I hope they win it outright."
"We wrestled hard," said Zacharias. "Hopefully we can pull it out next weekend."
In the lone junior varsity match, Defiance heavyweight James Rodriguez scored a 16-0 technical fall over Chris Wilkins.
Celina has one last opportunity to wrestle a home meet this season as the 16th Lions Invitational takes place at the Fieldhouse on Saturday starting at 9:30 a.m. Teams such as Olentangy Liberty, Elida, Coldwater, Versailles and Lehman will take part in the 10-team event.
Phone: (419)586-2371, Fax: (419)586-6271
All content copyright 2005
The Standard Printing Company
P.O. Box 140, Celina, OH 45822