By Ryan Hines
rhines@dailystandard.com
COLDWATER -- It's widely regarded that Marion Local guard Maria Moeller is the top player in northwest Ohio, although only a junior.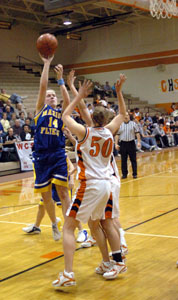 For those that still had any doubts, Moeller scored a career-high 29 points with near flawless shooting in leading the Flyers to a 67-47 win over Coldwater on Thursday at the Palace.
"Maria has the ability to shoot like that and that just makes her that much harder to guard because of the way that she passes and the other things she does in a game," said Marion Local head coach Treva Fortkamp. "She struggled a little bit the past few games but she came out tonight and hit shots for us when we needed them.
"She has the ability to do that more often, but it just goes back to her unselfishness and her ability to get everyone involved," added Fortkamp. "She's a great all-around player and we're lucky to have her."
"The thing that impresses me most about her is her strength," said Coldwater head coach Nick Fisher. "When she gets into the lane she can take a hit and still have the strength to put the ball in the basket. I don't know how many three-point plays she had tonight (four converted three-point plays out of her five possible attempts) but we're talking about hard three-point plays, not just shooting a three-pointer. She can earn the points the hard way and she has just an amazing arsenal that's tough to stop." Moeller's previous career-high point total was 25, which she achieved on two different occasions this year against St. Henry and Wapakoneta.
Marion Local stays perfect on the season at 15-0 and 6-0 in the Midwest Athletic Conference while Coldwater slips to 8-7 overall and 1-5 in league play.
More impressive yet for Moeller is that the star Flyers point guard hit 12-of-15 shots from the floor and did all of her damage in just three quarters of play, sitting out the entire fourth quarter after putting on an offensive show to end the third quarter.
Coldwater was down by as many as 20 points in the first half and needed a big lift to start the third quarter in order to get back into the game. Slowly but surely, the Cavaliers cut into the Flyers' lead and got to within 12 points at 40-28 with 3:19 to play in the third quarter. Kelly Obringer had four points and Leah Wenning contributed three points to spark the spurt.
With the Cavaliers now holding momentum in the game, Moeller began to take over for Marion Local.
Moeller hit a three-pointer and then added a conventional three-point play followed by two free throws from Kelsey Schaefer pushing the Flyers' lead back to 20 points at 48-28. Coldwater's Betsy Homan hit two free throws to stop an 8-0 run by Marion, but Moeller then had a short jumper and two straight conventional three-point plays to close the half on another 8-0 run taking a commanding 56-30 lead after three quarters of action.
"We didn't have that intensity to start the third quarter but we called timeout and I think that the girls got the intensity going again on the defensive end and it led to some offense for us," said Fortkamp. "When Maria goes off like that, the team feeds off of that."
"Moeller went on huge run to end the third quarter and just seized the momentum when we were starting to get back into the game," said Fisher. "I was proud of the way that our kids came out strong in the third quarter like it was 0-0 but Moeller took over at the end of the quarter."
Moeller certainly earned a rest in the fourth quarter following her offensive outburst to end the third quarter and both teams emptied its benches in the fourth quarter and Coldwater slowly cut into the Marion Local lead, but got no closer than 18 points before the final buzzer sounded.
In addition to Moeller's stellar game, Jenna Barhorst contributed 12 points on 6-of-7 shooting as 10 different Flyers dented the scoring column with at least two points. Amanda Harting led Coldwater with 14 points while Kendra Robbins added 13 points.
Marion Local is back in action on Monday at Lima Central Catholic while Coldwater returns to the court on Tuesday at Wapakoneta.
Phone: (419)586-2371, Fax: (419)586-6271
All content copyright 2005
The Standard Printing Company
P.O. Box 140, Celina, OH 45822