ST. HENRY -- St. Henry remained a game and a half behind Midwest Athletic Conference leader St. John's following a 32-minute battle with Minster. The Redskins' 63-58 victory improved their conference record to 4-1, and dropped the Wildcats to 5-1 in the MAC. St. Henry is now 11-2 on the season and Minster stands at 11-3.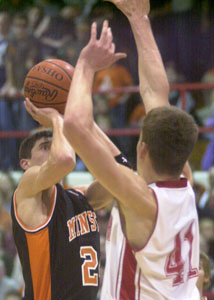 St. Henry shot a torrid 61 percent from the floor and placed four players in double figures, with Nate Stahl and Ross Niekamp leading the way with 12. Kurt Huelsman and Jared Stammen added 10 points each. Andy Beckman paced Minster with 21, and Zac Boeke added 16. Minster's leading scorer on the season, Dane Sommer, was limited to seven points as the Redskins' defensive pressure held him to 2-of-18 from the floor, and 0-of-8 from three-point range.
"That (Sommer's struggle) is due to that size," Lee said of the Redskins, whose starting lineup went 6-9, 6-7, 6-5, 6-5 and 6-1. "They can keep a hand in your face at all times. That's impossible to simulate in practice and I think that was a big reason. It's not something we see every game, and you have to adjust. Their switching defenses slowed us to a crawl in the third period and enabled them to get a breakout lead."
Redskins' coach Joe Niekamp had the same assessment.
"We have some guys who can create matchup problems physically," Niekamp said. "They can contest shots. With our size, we can play some zone and still stay on people." Following the tragic loss of a classmate during the week, the Minster seniors and the other Wildcats responded well.
"People asked me all week how the team would respond," said Lee. "They responded just as they have every game this year. They came out ready to play, and I'm really proud of them. It's a real credit to them, it was a gutsy performance."
The crucial part of the contest was a stretch covering the final two minutes of the third quarter and the first three minutes of the fourth period. This stretch enabled the Redskins to take a double-digit lead and forced the Wildcats to battle not only their opponent, but the clock as well.
St. Henry put together a 14-3 run that began just after a reverse lay-in by Minster's Jeff Preston closed the Wildcats to within three, at 42-39.
Niekamp hit a free throw and Andrew Huelsman hit a jumper from the free-throw line. Ryan Ranly's two foul shots pushed the Redskins' lead to 47-39 at the end of the third period.
Boeke started the fourth quarter scoring with a three-pointer, but a free throw by Toby Boeckman and Stammen's three increased the lead to nine. Boeckman's score inside sent the St. Henry margin to double figures. Stahl was fouled while converting a basket off the fast break following a Wildcat miss, and hit the free throw to complete the three-point play and push the Redskins' lead to 56-42.
Minster fought back, getting threes from Boeke, Preston and Beckman, and free throws from Beckman to cut the gap to four. Sommer then went to the line and hit a pair of free throws to cut St. Henry's lead to 58-56.
"Beckman's a pretty big kid (6-3)," Niekamp said. "He made some big shots there in the first half and again in the fourth quarter when we had a hand right in his face. We were an eyelash away from being totally in charge. He hit some shots, we made some bad decisions. They know they can score points in bunches. We had a 14-point lead at one time, and a 14-point lead to them doesn't mean the same thing as a 14-point lead to other teams."
Niekamp pushed the lead back to four with a pair of foul tosses, and Sommer hit his second field goal of the game with 25.4 seconds remaining to pull Minster back to within two points at 60-58.
Minster was forced to foul in an attempt to regain possession, and sent Stahl to the line with 18.8 seconds to go. Stahl hit the second of two shots to bump the lead to three, 61-58.
The Wildcats had already hit 10 three-pointers in the game and needed another to push the game to overtime. Sommer's shot was off the mark, and a rebound and a quick outlet pass got the ball to Stahl, who slammed the ball home at the buzzer for the final basket.
"We had some chances to put the game away," Niekamp said. "We made some bad decisions, and this should be a lesson to us. When you have a chance, you have to do it. We didn't do that tonight."
St. Henry travels to Russia for a game tonight, while Minster hosts another Shelby County team, Jackson Center. Both teams return to conference play on Friday, with St. Henry traveling to New Knoxville, and Minster hosting Marion Local.