By Margie Wuebker
mwuebker@dailystandard.com
MONTEZUMA -- Belinda Perin came to the Celina Fire Department this week bearing five framed certificates for the men she considers heroes.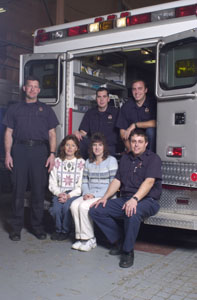 "I wouldn't be here today without these guys," she says with tears glistening in her hazel eyes. "Someone once said you only get one chance at life but I'm living proof that person was wrong."
The 39-year-old mother of two teenage daughters remembers only part of Nov. 19 -- the day she clinically died and was brought back to life by a jolt of electricity from a defibrillator.
Perin awakened that morning feeling better than she had in a long time. The lingering migraine headache was gone; even her fibromyalgia and a vascular disorder known as Reynaud's disease were causing no problems.
She shared similar comments with fellow Appraisal Research Co. personnel working in the Mercer County Auditor's Office. "I wrote down my lunch order and reached for another data entry card," Perin says. "The next thing I knew it was six days later and I was a patient at Miami Valley Hospital in Dayton."
Supervisor Peggy Wyerick noticed Perin bent over in an office chair as if she were picking something off the floor. Then the slim body fell limply to the floor.
"Belinda wasn't breathing and I had to do something," she says. "I started breathing for her. She was turning blue but her color seemed to improve after each puff of air."
A co-worker called 911 to report a woman having a seizure. Paramedics Mike Bruns, Chris Cline, Steve Hemmelgarn and trainee Russ Moorman headed out in Squad 9 bound for the Mercer County Courthouse a block away. Lt. Doug Wolters also responded when the second call came seconds later clarifying the problem as a woman not breathing.
One jolt of electrical current from the squad's defibrillator re-established a "livable" heart beat, according to the men. Relief spread across their faces when they detected a definite pulse in her neck.
"It's a shock looking down at such a young patient," Bruns says. "You don't expect to see someone 39 years old in cardiac arrest."
Moorman is not likely to forget his first major squad run. With Perin intubated, he knelt at the head of the stretcher squeezing the bag and breathing for her en route to Mercer County Community Hospital in Coldwater. She could not hear the wail of the siren or see the worried looks of the trained professionals working over the stretcher.
The Montezuma woman was transferred later to Miami Valley Hospital in Dayton, where doctors determined she had suffered a heart attack earlier than her Nov. 19 collapse, resulting in irreparable damage. It necessitated the implementation of a combination pacemaker-defibrillator to prevent additional arrests. A heart transplant will be needed eventually, but cardiologists say that could be six to 12 months down the road.
Perin believes the heart attack occurred in October as she was returning home from a relative's funeral in Michigan. She remembers experiencing heartburn, nausea and overwhelming warmth. There was no squeezing chest pain radiating down her left arm; no uncomfortable pressure. A brother noticed a blue cast on her lips which she quickly attributed to a persistent bout of bronchitis.
"The surgeon (Dr. Mujtaba Khan) who did my implant told me doctors believe 20 to 30 percent of women never realize they are having a heart attack because the symptoms are much different than what men experience," she says. "He thinks the number is much, much higher."
Doctors initially thought Perin would be unable to walk or talk given the time her brain went without oxygen during the arrest. Her speech has improved and she has traded a walker for a cane. The wheelchair is only needed for occasional shopping trips.
"People ask how I felt the day my heart stopped big time," she says. "I felt nothing....it's as if somebody simply blotted out six days of my life. I am just grateful Peggy and these guys were so close. The outcome would have been much different if the arrest had happened at home or when I was alone."
The paramedics agree adding early defibrillation is the key to successful resuscitation. While the percentage is high in the hospital, it drops to 1 or 2 percent in the field, according to Hemmelgarn.
"The odds against bringing somebody back increase 10 percent every minute in the event of an arrest," Wolters says. "I'm glad for Belinda's sake that we were right around the corner instead of miles away."
Perin, who tires easily and needs a lot of rest, sits on the ambulance bumper for commemorative photographs with her heroes. She knows the legion of heroes will grow in the coming months when a family somewhere gives the ultimate gift resulting in a heart for her transplant surgery. The driver's license in her wallet declares her intention of being an organ donor; now the shoe is on the other foot and she is trying to come to grips with the knowledge
"I count my blessings each and every day," Perin says. "Everything has more meaning these days. After a life-altering experience, you quickly learn not to sweat the small stuff anymore. There is more to life than working, cleaning and doing the laundry. You have to take the time God gives you to thank all those who have made a difference in your life. These guys gave me a second chance to do that and to watch my girls grow."
Phone: (419)586-2371, Fax: (419)586-6271
All content copyright 2005
The Standard Printing Company
P.O. Box 140, Celina, OH 45822