By Gary R. Rasberry
grasberry@dailystandard.com
The Lions Invitational has always been known for competitive wrestling in the 16-year history of the late-season tournament.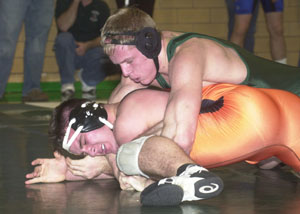 This year was no different as the Grand Lake Area showed its dominance in the sport.
Celina captured the team title for the first time in several years in dominating the pool play and putting wrestlers in all but two of the top-six matches, finishing with 237 points after a long day at the Fieldhouse that did not see the finals end until around 10 p.m. after a 9:30 a.m. start.
"We had a nice tournament," said Celina coach Joel Zacharias. "We had Zach (215-pounder Zach Mertz) getting sick all day (Mertz later withdrew due to illness) and Dan (160-pounder Dan Knoth) didn't have a real good day (not advancing to the final six). The rest of the team picked it up. It was big for the kids to be in front of the home crowd. That's what we shoot for at the end of the year."
The battle for second came down to a pair of Midwest Athletic Conference teams as Versailles edged out Coldwater 1901ò2 to 190 for second. Greenville was fourth with 183 points. "It's a good tournament," said Versailles coach Bill Roll. "It's 3-4 deep in every weight class. Good tough wrestling. We're glad to get second. We have Coldwater next week and that's going to be a heckuva dual meet."
"This a great tournament," said Coldwater coach Chuck Alig. "Joel does a great job with the tournament and his team and Bill year-in and year-out does a great job. This is an unbelievably competitive tournament. I tell the kids if they can place here, they can get to districts."
Six MatDogs made the championship match with two taking home championships and earning the 14 points awarded teams for individual titles.
The best day came from senior Trent Hellwarth. The 189-pounder went 4-0 in pool action with three pins. In the championship bout, he took on Greenville's Chad Kingery, who went 4-0 with four pins in the other bracket. Hellwarth got the early lead and won easily 8-4 to take the title. For his effort, Hellwarth was named the Outstanding Wrestler of the Tournament.
"It was really tough. There was a lot of good teams here," said Hellwarth. "I started out real slow and I kind of warmed up a little by the time I got to the final. I just wanted to win to help the team."
The other Celina win came from senior Kiel Hawk. Hawk went 4-0 in the 135-pound prelims and took on another Green Wave grappler in Levi Harris. Hawk trailed early but in the third got a reversal and picked up three big near-fall points to come away with a 7-4 win.
Jantzen Hinton was also a strong contender for the outstanding wrestler award with three pins, two in under 30 seconds, and a 4-0 record going into the 171 final. Versailles' Russ Beisner, however, held off Hinton 2-1 to capture one of the two Tiger titles on Saturday.
The other title made for the Tigers made history on Saturday as Dave Bernholt defeated Celina's Garrett Gray 4-0 in the 145-pound final. Bernholt's victory placed him as the all-time winingest Tiger wrestler with 122 wins, surpassing Steve Smith.
The Cavaliers had one of its greatest days in the tournament, bringing home three champions, with all three bouts coming against WBL power Elida. Standout freshman Tyler Kunk captured the 160-pound title with a 14-8 win over Elida's Tyler Ladd. Andy Schmidt won the 152 title over Bulldog Michael Winter. In the 275 match, Craig Homan battled Shane VanVoorhies through seven minutes of regulation and overtime with both tied at 1-1. Homan chose down for a 30-second sudden death where he needed to get the escape to win, otherwise, VanVorrhis took the title. Homan was able to snap out quickly and get the 2-1 win, capturing his second straight heavyweight title in the tournament.
"Tyler and Andy, the last couple of weeks, have worked very hard," said Alig. "They work together in practice. Tyler is a freshman who wrestles like a junior. Craig had a slow start after coming back from an injury but has gotten into form."
Cavalier Kyle Oswalt picked up win number 120 on Saturday, surpassing Aaron Alig on the all-time win list at Coldwater. Oswalt, though, was unable to compete in the 215-pound final due to injury suffered in the prelims, forcing him to medical default to Ayersville's Nick Girlie.
In addition of Hinton and Garrett Gray, Celina also got second-place showings from Nick Gray at 130 pounds, who lost to Sam Krueger of Fremont Ross in a 16-15 decision, and from Cody Wagner at 140 pounds, who lost 9-7 to Kyle Harris of Greenville.
Celina and Elida now prepare for the WBL tournament that will be at the Elida Fieldhouse on Saturday. Coldwater and Versailles will meet again on Saturday, taking part in a tri-match with the other MAC wrestling team St. John's. The meet will be at Versailles starting at 6 p.m.