By From staff reports
newsroom@dailystandard.com
Most Grand Lake area school districts have used up their regulated number of calamity days and some are making up days during an upcoming scheduled break or extending the school year past Memorial Day.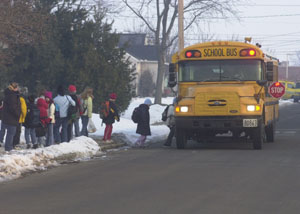 Celina City Schools students have missed seven total days of school, including three this week due to fog.
District Superintendent Fred Wiswell said the school year will be extended to make up the lost days. State law allows districts to miss up to five days without making them up. Makeup days in Celina are set for May 26, 27 and 30. If more days are missed before the end of the school year, they also would be added to the end of the year.
Immaculate Conception Catholic School in Celina is following the same plan as Celina schools because the district uses the public school buses, said Principal Kathy Mescher. Calamity days will be tacked onto the end of the school year in May.
Just like Celina Schools, the Catholic school has been closed eight days so far this 2004-2005 calendar year, Mescher said. Parkway students also have missed eight days this year. Students will now lose Feb. 18 and 21 vacation days and attend at least one extra day at the end of the year.
The New Bremen district marked its seventh calamity day this week. School officials have designated the two makeup days to be Presidents Day weekend holidays, Feb. 18 and 21. Other available makeup dates include March 24 and 28, April 29, May 27 and 31.
Minster students were forced to make up an extra day after fog cancelled classes on Monday and Tuesday earlier this week. The two cancellations pushed the school to six missed days, one over the limit.
Superintendent Hal Belcher said school officials selected Feb. 18 as a makeup day.
St. Marys reached five days after canceling classes on Monday and Tuesday due to the fog and plans to revise its delay system to avoid any more fog-related closures this year.
Superintendent Ken Baker said letters were sent home with students on Thursday notifying parents that a three-hour delay system will be used the rest of the year.
"A lot of the time the fog has been lifted by 10 or 10:30 (a.m.)," Baker said. "We will use a three-hour delay if needed and add an hour on to the end of the school day. We sent a letter notifying parents because there are obviously child care issues that need to be worked out."
Some other districts have reached but not exceeded the five-day limit. They have various plans to make up any more missed days by canceling parts of spring break or extending the school year. Fort, Recovery, Coldwater and Marion Local all have missed five days of school.
St. Henry is the only district in the area still under the limit with four days missed.
School district officials across the area make their decisions about whether to delay or close school about 5:30 a.m., Coldwater Superinten- dent Rich Seas said. Tri Star Director Tim Buschur monitors radio traffic from districts in the career compact and officials at each district work from there.
"There is a lot more communication going on than I think people sometimes realize," Seas said.

-- Staff writers Timothy Cox, Janie Southard, Lance Mihm and Betty Lawrence contributed to this story.
Phone: (419)586-2371, Fax: (419)586-6271
All content copyright 2005
The Standard Printing Company
P.O. Box 140, Celina, OH 45822