By Ryan Hines
rhines@dailystandard.com
Celina posted possibly its most gratifying victory of the season on Thursday night.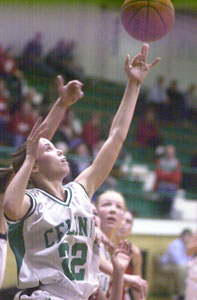 An injury-riddled and foul-plagued Bulldogs squad knocked off Wapakoneta, 52-44, on senior night at the Fieldhouse.
With starter Liz Homan (left arm) and key reserve Meg Smalley (rotator cuff) sidelined with injuries, Celina (6-12, 2-6 WBL) played inspired basketball on the way to its sixth win of the season.
"It really was a gratifying win for this team and I'm just really glad for the girls because they have had a great attitude this year and have worked hard all the time in practice," said Celina head coach Brian Stetler. "It's really nice to see them reap the benefits of a win with all the hard work that they've been putting in."
Senior Allison Hoying scored a team-high 15 points, including crucial free throws down the stretch while adding six rebounds. Betsy Hone, who battled foul trouble all evening, added 14 points. After leading by as many as six points in the first quarter, Celina found itself in deep foul trouble in the second quarter. Hone, leading scorer Laura Link and Julie Snyder all were saddled with three personal fouls forcing Stetler to use his bench for a majority of the second quarter.
Kinsey Schumann, Amy Harner, Lindsay Scheer and Jen Brackman all gave quality minutes off the bench allowing the Bulldogs to hang tough with the Redskins, trailing just 23-21 at the half.
Celina got 15 points and 14 rebounds from its bench led by standout performances from Schumann and Harner. Schumann scored six points and pulled down a team-best 10 rebounds while Harner added seven points and a strong floor game.
"We got ourselves in some deep foul trouble and the girls that came off the bench kept us in the game and played well along the way," said Stetler. "The bench play for us was huge tonight. Girls were forced to play more minutes than some of them were used to and they didn't hurt us, they did what we asked them to do.
"Kinsey had a huge game for us and we were in need of her to step up," added Stetler. "Rebounding was the first thing on our board in the locker room and she had 10 rebounds. She's capable of playing like that."
"They (Celina) deserve a lot of credit because they did get into foul trouble and were able to hold their own," said Wapakoneta head coach Brad Rex. "We didn't get the ball to the right people in key situations tonight and we didn't have the right people taking shots at key moments. When you do that and don't take care of the ball (13 turnovers) it's tough to win."
The Bulldogs opened the second half at full strength and played like it going on a 9-2 run to start the third quarter and grabbing a 30-26 advantage while forcing a Wapakoneta timeout. Link, who was 0-of-6 from the field in the first half, scored five points to ignite the run while Hone and Hoying also added two points apiece.
"Allison is a senior and she did a great job tonight for us as a
quiet leader and gave us some offense," said Stetler. "She's really been playing better for the past five or six games and she just had a great game on senior night."
Celina took a five-point lead, 36-31, into the fourth quarter and was able to seal the game at the free-throw line. Wapakoneta got as close as one point, 36-35, early in the fourth quarter forcing a Celina timeout at the 7:09 mark. The Bulldogs then went on a 7-2 run behind four points from Hone and converted 12-of-14 free throws in the final quarter to come away with the win. Hoying was 5-of-6 from the line in the fourth quarter and 8-of-10 from the charity stripe in the game.
"The way that we shot free throws was huge in the fourth quarter and was the difference in the game," said Stetler.
Wapakoneta's Lindsey Kentner, who was coming off a career-high 39 points against Coldwater on Tuesday, led the way for the Redskins (10-8, 4-4 WBL) with a game-high 21 points while Erica Drexler added 11 markers.
Celina is back in action again on Tuesday hosting Lima Senior.
Phone: (419)586-2371, Fax: (419)586-6271
All content copyright 2005
The Standard Printing Company
P.O. Box 140, Celina, OH 45822