MARIA STEIN -- It was truly one of those battles where you hate to see a team lose.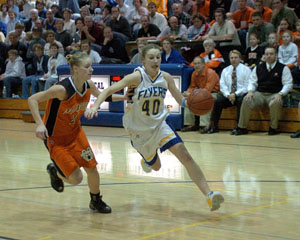 For Minster Wildcats girls basketball fans, there is no doubt it was one of those games.
After trailing most of the contest, the Marion Local Flyers strung together a 6-0 run in a second overtime period to knock Minster from their share of the top spot in the Midwest Athletic Conference with a 59-53 victory.
The win keeps Marion Local's record spotless on the season at 18-0 and 8-0 in the conference. With one league game remaining (New Knoxville), the Flyers' first MAC crown in three years is theirs to lose. Minster slips to 13-4 on the year and 7-1 in the league.
"Both teams had pressure on them coming into the game tonight," remarked Flyer coach Treva Fortkamp. "The pressure comes from trying to win a MAC title -- it is hard. Not just playing against Minster, but playing against all of the other teams that we face makes staying alive for the title very rewarding. Week in and week out it's a battle, but we are still alive. Some of these girls have never won a title, and that's something we want to accomplish." The Flyers' Maria Moeller has burnt most opponents in one way or another for most of her three-year varsity career, and last evening at the Hangar it was nearly perfect free-throw shooting by the junior that helped lift her team to victory. The junior connected on 11-of-12 from the charity stripe, while adding 16 points from the field for her game-high 27 points. Senior Kelli Stucke added 11 points, while junior Jenna Barhorst added 10 points and a game-high nine rebounds in the game.
For Minster, sophomore Danae Spieles picked up 11 points as she was the only Wildcat in double-digits.
"Coming into the game, we wanted to contain Maria Moeller, and obviously you can see how difficult that is," remarked Minster coach Nann Stechschulte following the loss. "I thought we did good at limiting her penetration, but she hit a few big three-pointers and was phenomenal at the free throw line. When that happens, as well as getting out-rebounded, it makes it difficult."
The Wildcats took control early, and led by as many as five points in the middle of the first quarter before going into the locker room at halftime clinging to a one-point lead, 23-22. The Flyers only advantage of the half was for a brief moment early in the second quarter at 14-13, but a three-point goal by senior Kirby Boeke regained the Minster lead almost immediately. .
Both teams went blow for blow in the second half, but the visitors maintained their solid position even though Marion wouldn't go away quietly. A stingy defense allowed the Wildcats to have a couple of brief five-point leads, but the majority of the half was kept to within a couple of points. A key moment took place with 4:14 left in the game with Minster ahead by three points. A foul on Amy Kremer sent Moeller to the free throw line, much to the dismay of Stechschulte. The Wildcat coach expressed her opinion to the official and was quickly issued a technical foul. Moeller drained her first two attempts as well as both technical shots to give her team a one-point lead at 40-39, their only lead of the second half. A bucket by Lisa Muhlenkamp and a three-pointer by Spieles extended Minster's lead to four points with 1:29 left in regulation. Barhorst and Moeller each connected on short jumpers to knot things at 44 points, and Moeller's three-point attempt at the buzzer sent the contest into it's first overtime. When asked about the occurrence, Stechschulte explained that she was embarrassed.
"I was trying to show him (the official) what I thought happened on the call and I lost my balance and fell -- I blame that on getting old," she added. "They hit some big shots on that and it was very pivotal. I told the official afterward that I wasn't trying to show him up and that it was an honest mistake."
Marion Local opened the first overtime with a three-point shot by Stucke, however the Wildcats answered with another five-point run to take the lead at 49-47 with 2:02 remaining. Moeller drained another pair of freebies at the :50 mark to tie the game 49-49 and eventually push the game into it's second overtime period. A basket and a pair of free throws for each team kept the game tied, but the Flyer's six unanswered points proved to be too much as they handed the Wildcats the 59-53 defeat.
"I thought tonight the atmosphere was outstanding," said Fortkamp. "The kids had trouble hearing me at times, but that really helps us to prepare for tournament. Both teams played their hearts out and we were very fortunate to come away with a win."
The Flyers are back in action on Tuesday against the St. Marys Roughriders. The JV contest was also won by the home team who escaped with a 42-37 win.