By Ryan Hines
rhines@dailystandard.com
Celina, more often than not, shoots the ball fairly well on its home floor inside of the Fieldhouse but what the fans witnessed on Friday night against Defiance was just remarkable and hard believe unless you witnessed it.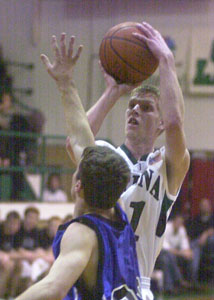 The Bulldogs shot 64 percent from the field and hit an incredible 14-of-17 from beyond the three-point arc to dismiss Defiance, 71-42 in Western Buckeye League action.
"I have never had a team shoot the ball that well in a game and I think that it was due to executing well and moving the ball well to get open looks," said Celina head coach Mike Kanney, who improves to 9-0 against Defiance all-time. "We beat the zone and we got good looks against their man too because we penetrated and kicked it out to the open player. When you shoot the ball like that, the offense looks good. I have always thought that our kids can shoot the ball well, but we just haven't showed it in a game like we did tonight."
Celina (11-5, 6-1 WBL) retains its share of the WBL lead along with rival St. Marys and Van Wert. Defiance drops to 6-10 on the year and 3-4 in league play.
Visiting Defiance never knew what hit them when it started raining threes inside the Fieldhouse and it turned into a rude welcome to Mercer County for first-year head coach Kirk Lehman. "I saw them make 10 threes in a row during warmups and I told the coaching staff that they couldn't repeat that in the game, but I guess I was wrong," said Lehman. "That's a nice team, they play hard and they play together on both ends of the floor. They don't look like a team that was returning just one letterman coming into the season. I saw them a couple of times in person and on film and I knew that they liked to shoot the three, but I thought that they were better shooting twos than threes, but they proved me wrong tonight."
The lights-out shooting performance for Celina was led by senior point guard Seth Staugler who scored a career-high 25 points. Staugler hit 7-of-7 from three-point range setting a new Celina team record for percentage of threes made in a game with at least five made treys and is now second in the record books for three-pointers in one game.
Staugler's 100-percent performance from three-point land broke Tim Homan's record of 71.4 percent (5-7) set last season against Greenville. The seven treys places Staugler just behind Doug Kanney who hit eight threes against Piqua in 2001 and tied Gregg Niekamp who his seven threes against Kenton in 1989.
"Seth is hitting big shots, he's had some really good assists too and he's just playing really well right now," lauded Kanney.
"Staugler was absolutely tremendous," stated Lehman. "He was quick with the basketball, he was unselfish and he obviously had a great night shooting the ball."
Eric Klosterman was perfect from the field in the game going 5-of-5 from the field and 2-of-2 from the free-throw line to finish with 4 points. Aaron Braun also hit 4-of-5 from the floor for 10 points. Klosterman and Braun were each 2-of-2 from three-point range. Brandon Wurster (2-of-4) and Scott Luthman (1-of-1) also connected from long range in the game.
"The nice thing about this is that we have five guys hit threes so we got balanced shooting," said Kanney. "When everyone is hitting like that, it make us difficult to guard."
Defiance jumped out to an 8-3 lead but the lead was short-lived as Celina began the perimeter assault from that point on. Celina hit 5-of-7 from three-point range in the first quarter including two each by Klosterman and Staugler and held a 17-10 lead after the first eight minutes of action.
The second quarter was all Celina as the Gree and White outscored Defiance 27-9 in the second quarter behind an efficient offense. Celina closed the second quarter by scoring on 15 of their last 17 possessions (two turnovers during that span) with Staugler leading the way with 11 points in the stanza.
Defiance never got any closer than 18 points in the second half as both sides emptied the benches.
Graham Wagner, who is averaging 19 points per game on the season, led Defiance with 12 points while Nate Ripke hit for 10 points, four points below his season average.
"We knew that Wagner and Ripke were their go-to players and I think that we did a good job of defending them and limiting their good looks at the basket," said Kanney.
Celina is back in action tonight at home against Sidney with the 2005 Celina Athletic Hall of Fame induction ceremony being held in between of the jayvee and varsity contests.
Phone: (419)586-2371, Fax: (419)586-6271
All content copyright 2005
The Standard Printing Company
P.O. Box 140, Celina, OH 45822