By Gary R. Rasberry
grasberry@dailystandard.com
MINSTER -- While giving praise to Minster after losing to the Wildcats 59-37, Marion Local coach Keith Westrick was quick to add that the loss was more in part to what his Flyers didn't do than what the Wildcats did do.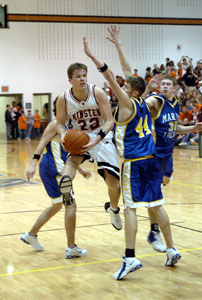 "They're a nice team, defensively," said Westrick, "It's also a lot of our mental lapses, inability to handle the pressure and sometimes not staying composed enough to see who's open."
The Flyers shot just 29 percent (15-of-51) from the floor in the game, converted on just 4-of-11 free throws and had most of their 23 turnovers come as a result from their own miscues.
"They, obviously, can control the tempo of the game when you turn the ball over each time (down the floor)," said Westrick after a long postgame talk with his team. "We came down the floor, anticipated passes, threw dumb passes and they got the steal and scored. Come back down, turn it over again and they score.
"They're (Minster) a team that can score in bunches. Our intent, all the way along, was we've got to play good enough defense, control all their weapons, which they have several of, and we have to (have) offense good enough to take high-percentage shots. In the first quarter, we actually did get good shots. ... In the second, third and fourth quarters, we just didn't run any offense." What the Flyers didn't throw away, Minster took away as the Wildcats' pressure defense came up big.
"That's kind of been the forte of the basketball team," said Minster coach Mike Lee. "When our pressure is good, and tonight it was good, ultimately we just kind of wore them down and got them into a transition up-and-down game, which on the flipside, they didn't want to do."
It also didn't help that the Flyers missed a lot of good shots. The Flyers had two and sometimes three chances to score on a possession, but were unable to cash in. Kyle Seitz had seven offensive rebounds in the first quarter, but was 0-for-4 on the night from the floor.
"Kyle did a great job on the boards," said Westrick. "He had a hard time sticking it back in due to the leaping ability (of Minster) on the inside."
The Flyers stayed close through the first half, trailing 13-9 after one quarter and 25-17 at the break. The start of the third, though, saw the Wildcats take over the game with an 11-2 run.
"The key to the game was the start of the third," said Lee. "I think we were up seven or eight at the half. We executed well. On your home floor, that's making a statement to start the second half."
Dane Sommer had a strong night to lead all scorers with 19 points. The Wildcat senior shot 6-of-14 from the floor, including hitting 50 percent of his three-pointers (4-of-8). Sommer also pulled down six rebounds.
"He got on track a little bit offensively," said Lee of his senior co-captain. "Naturally, he helps us in so many ways. You have to give ultimate credit to all our kids. We weren't at full strength for a second straight week. (Andy) Beckman went down with an ankle injury last Saturday against Jackson Center. I don't think he scored any (he didn't). We need to have him healthy down the home stretch."
Justin Spillers added 11 points and five boards for the Wildcats while Zac Boeke finished with 11 as well.
Kyle Moeder was the only Flyer in double figures with 10 points and Curtis Moeller added nine.
Marion returns to action tonight as part of a set that sees the Flyers play three conference games in four days. Tonight Versailles comes to the Hangar with the start of the game moved up to 5:45 p.m. On Monday, Marion travels to New Bremen to meet the Cardinals starting at 6 p.m.
Minster is off this weekend and returns to play Tuesday in a makeup game at Houston.