By Gary R. Rasberry
grasberry@dailystandard.com
ELIDA -- It wasn't really the way Celina wanted to achieve its first Western Buckeye League wrestling title, but it goes into the books as a championship nonetheless.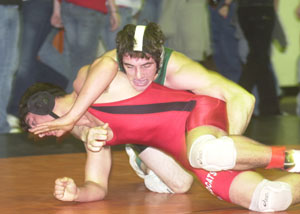 The MatDogs were heavy favorites to capture the overall title at the WBL tournament by placing eight wrestlers in championship bouts and three more in third-place bouts.
The problem was, Wapakoneta had nine first-place matches and six were head-to-head battles with Celina.
The Redskins, who were beat in the dual match meeting earlier in the year, won all six bouts against the MatDogs to win the tournament and share the overall title with Celina.
Celina coach Joel Zacharias, who announced before the championship meet that he would be stepping down at the end of the season, was happy -- somewhat. "Not the way I wanted it to set out. I wanted to win it outright," said Zacharias, who has been the Celina coach for 20 years. "We'll settle for the co-championship.
"The kids wrestled well today. Nobody wrestled bad. They all wrestled hard. We have eight seniors that have been through four years of this. They all wrestled hard and have done a nice job for us," added Zacharias.
Wapak coach Jason Rostorfer said the team was motivated by the Redskins' 34-24 loss to Celina in the dual meeting -- a match that ended with Wapak wrestler Jon Zofkie getting disqualified in what would have been the clinching match against Nick Gray.
"We talked after the Celina match that we could either dwell on it and be upset about it or use it as motivation," said Rostofer, who shared the league's Coach of the Year award with Zacharias. "They decided to use it as motivation. They stepped up the intensity and worked their rear end off in practice."
The first shot Wapak threw in the battle came in a third-place meeting between 119-pounder Joel Claybaugh and Cody Koesters. Claybaugh got an early takedown and allowed just an escape point to get a 2-1 win. Things heated up in the 125 championship as Luke Regula beat Patrick Bailey 11-3 to get the first Wapak title of the day.
Zofkie and Nick Gray had their rematch in the 130 final, but this time Zofkie did not get called for dangerous moves and held Gray to an escape to get a 5-1 win.
At 135, Jason Bordner downed Kiel Hawk 12-2 to make it three titles in a row for Wapak. Then at 140, Donnie Collins decisioned Cody Wagner 13-6 for four straight crowns.
Wapak picked up the 152 title as Kurtis Shipp won over Tremaine Boaz of Van Wert. Celina and Wapak did not meet in the championship bouts again until Trent Hellwarth looked to repeat as the 189 WBL champion. Galen Miller, however, got the early takedown and scored one more late to deny Hellwarth the title with a 10-6 decision. The final Celina-Wapak title battle came at 215 as Nick Twinning survived a Zach Mertz rally for a 4-3 win.
The clincher for Wapak was also one of the big stories of the meet. Eric Junkins, who had been out most of the season after breaking his arm in football, finally earned medical clearance within the last week. Junkins upset heavyweight favorite Shane VanVoorhis of Elida in the second round and decisioned Defiance's Greg Brown to win the final title for Wapak.
The Redskins won the tournament title with 219 points, while Celina was second with 186.
Celina had two champions on the day, with both wins coming over non-Wapak opponents.
Jantzen Hinton captured the 171 title to go with the 160-class medal from last season with a 3-1 overtime win, the second time Hinton won a title in overtime.
This time, things got heated in the final against Elida's Brooks Mohr. Hinton was up 1-0 already in the third period when he tried to roll Mohr for backpoints. Mohr had Hinton's arm locked. When trying go get free, Hinton was warned and then penalized for stalling, tying the match. Hinton angrily protested the call but was unable to get Mohr over for points. In overtime, Hinton went after Mohr, finally taking him down with eight seconds left to get the win.
"Bottom guy didn't seem to move too much," said Hinton after the awards presentation. "He had my arm pinned and I couldn't get away. They called me for stalling anyways. I tried feeding off my (frustration). If they get you (ticked) you might as well use it to your advantage."
Garrett Gray, who was beat out at 145 last season, captured his title at 145 this year, scoring an 11-7 decision over Defiance's Chase Sobieck.
St. Marys, which finished sixth in the tournament, brought home repeat champions. Caleb Cisco, who scored two quick pins in his prelimary matches, successfully defended his 103 title with a 25-10 tech fall win over Elida's Chris Diglia.
"It's a little overwhelming," said Cisco. "I've got to be ready for next week (sectional), though. I couldn't turn Chris, so I had to keep taking him down. I knew we needed the points so I went for a tech fall and got it."
Adam Maze won his second 119 title with a 6-3 win over Jack Dennis.
The three-peat repeat for the Roughriders was not to be as Josh Cisco battled Defiance freshman Sam Carrisalez in the 112-title match. Carrisalez rallied in the third period to get the 12-10 win.