ST. HENRY -- St. Henry took the lead on the game's first shot and never trailed in a close 60-54 win over Van Wert on Saturday.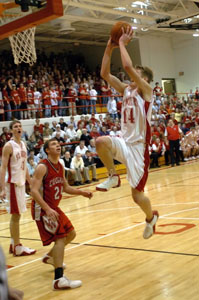 Rian Rainey led the Cougars (13-2) with a game-high 30 points, but it wasn't enough to offset the Redskins' timely defense and clutch shots. The Cougars also got 10 points from Kyle Holliday.
Nate Stahl was the top scorer for St. Henry (15-2) with 23 while Jared Stammen added 10.
With their primary inside presence diminished because post player John Moonshower was sidelined with injury, the Cougars often dropped a third man back on Redskins' center Kurt Huelsman, preferring to gamble that they could recover and get to guards Andrew Huelsman and Stammen in time to defend them.
For the most part, it worked, but not often enough to make a difference. Huelsman and Stammen combined for 16 points, including four big three-point shots at critical times. "Van Wert's showed in the past that they're willing to drop off a man to defend the post and make you prove that you can do something from the outside," Redskins' coach Joe Niekamp said. "Andrew and Jared stepped up and hit some really big shots to keep Van Wert honest. They also worked hard to contain Rainey and although he got his points, he had to work hard."
"Injuries did affect our rotation a bit," said Van Wert coach Dave Froelich, who had picked up his 300th victory the previous evening against Kenton. "That's the way the game's played and I thought we battled through it well. The kids did a great job out there of giving us a chance. I think we ran out of gas and ran out of bodies. Our only adjustment at halftime was to try and grow and that didn't work."
The Redskin defense turned in several big plays, including key steals and a number of blocks inside by Huelsman, to force the Cougars to stay outside and not penetrate as much as they would like.
The biggest defensive play came in the closing seconds of the third period. St. Henry led 42-41, with Van Wert inbounding the ball under its own basket. The inbounds pass was intercepted by a leaping Stahl at midcourt, who found Stammen headed for the basket. Stammen's score as time expired pushed St. Henry's lead to 44-41, and gave the Redskins some breathing room with the Cougars getting possession to start the fourth quarter.
"We cut it to one there at the end of the quarter and then turned it over," Froelich said. "They (St. Henry) answered the call. They hit some big shots by guys we were willing to gamble with. You have to give up something to guard the post and the guys we were willing to take a chance with hit some really big shots. Our kids did exactly what we wanted them to do, except they couldn't be 6-9."
"They were on a run and their fans were getting into it," Niekamp said. "Nate made a great play on an inbounds pass with about five seconds left, and that was definitely a momentum turner. I think from that point on we started to right the ship. We started to assume a little more control of the game at that time."
After the Cougars couldn't score to start the final period, Ross Niekamp drove the baseline to score and improve the Redskins' lead to 46-41. Stahl converted a traditional three-point play to stretch the lead to eight, before Rainey started his own personal scoring run.
Rainey scored on a pair of drives to the hoop and hit a free throw to close the gap to 49-46. Andrew Huelsman hit a big three-pointer and Stammen hit both ends of a one-and-one to increase the lead to 54-46.
Van Wert got as close as five points, 56-51, as time wound down. Forced to foul to regain possession, the Cougars could only watch as Stahl and Niekamp each buried a pair of free throws that rendered Rainey's three-pointer at the end inconsequential.
St. Henry is home on Friday as Versailles come to town for a Midwest Athletic Conference contest.
Phone: (419)586-2371, Fax: (419)586-6271
All content copyright 2005
The Standard Printing Company
P.O. Box 140, Celina, OH 45822