By Gary R. Rasberry
grasberry@dailystandard.com
NEW BREMEN -- Both New Bremen and Marion Local were coming into Monday's rescheduled game having played a double-weekend and looking to get the second win of the three games-in-four nights marathon.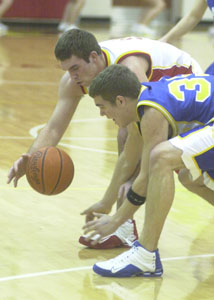 Legs were understandably a little tired after getting just a Sunday rest day before heading into Monday's MAC matchup.
The Flyers had a little momentum from Saturday's win over Versailles and held a 25-24 lead at the half.
Then the Cardinals picked up the pace, outscoring the Flyers 13-2 in the third quarter and sealed the game with a spectacular run from the foul line in a 57-42 win at Cardinal Gymnasium.
New Bremen improves to 12-5 overall and 3-3 in the conference as Marion drops to 8-9 on the year and 3-4 in the MAC. "I just thought we stayed mentally tough and mentally focused," said New Bremen coach Mike Ernst. "It was just how I thought it would be -- two teams that were on worn-out legs, just fighting, clawing and scratching, making runs at each other. I just thought we stayed tough and made just enough shots to win."
Neither team shot well on the night but New Bremen had the hotter hand if shooting 36.8 percent (14-of-38) can be considered hot. Marion struggled on offense and would have liked that percentage, considering the Flyers shot just 11-of-44 (25 percent).
The Flyers rebounded after starting the game in a 10-0 hole as Marion coach Keith Westrick began to sub. John Alexander scored six points, four in the second quarter, to help Marion come back and take a small lead at the half. Marion made sure that New Bremen did not get any second chances at the basket, outboarding the Cardinals 22-10 in the first 16 minutes of action.
"We started the ballgame tenative and afraid, for some reason," said Westrick. "We subbed some people in, worked our butt off and got back into it. All the positions didn't allow themselves to play at 100 percent. We didn't get 100 percent from all five positions consistently all night long."
The Cardinals caught fire with a strong run in the third quarter. Senior Troy Lammers started things with a bucket 18 seconds into the quarter to put New Bremen up 26-25. Marion took the lead shortly thereafter, for what would be the final time, with 5:19 left in the quarter after Scott Brackman was called for a foul and was also hit with a technical. Ryan Winner made both tosses to put the Flyers back up one.
After Jeff Thobe tied it with a free throw, Lammers again drove the lane, getting the basket and the foul to put the Cardinals up 30-27. Lammers squeezed in another bucket between a Thobe stickback and an Allan Webster three-ball to make it 37-27 going into the fourth quarter.
In the fourth quarter, the Flyers began to foul more in an attempt to force making New Bremen retain its lead from the foul line. The Cardinals maintained and more, hitting 16 straight free throws at one point in the quarter, spaning from the 4:06 mark of the period to the final 20.9 seconds when Brackman missed the back end of a two-shot foul.
The Cardinals were 25-of-33 on the night from the stripe, a rate of 75.8 percent. The Flyers didn't do so badly from the foul line either, making 17-of-20.
"That's not been a strength of ours through the season," said Ernst, who's team averaged just 58 percent through last week. "We've worked hard at it, but some people might come out and wonder if we ever practice free throws. I can about guarantee that no one shoots more than we do in practice. It's starting to pay off."
Westrick was not happy with the overall play of his team.
"When there was a loose ball, New Bremen got it," said Westrick. "Anytime there was a rebound, New Bremen got it. Any scramble on the floor, rather than diving for it, we stood there and reached for it. You have to play the game at 100 percent. We had certain people on the floor who worked their butt off. They played every minute we asked of them and they gave it everything they got. But it's a team sport. It's a team effort. Everyone has to show up on a given night."
Lammers finished with 20 points to lead New Bremen while Webster came off the bench to score 11. Winner and Alexander led Marion with 10 points each.
Marion hosts New Knoxville Friday in MAC action and New Bremen stays home on Friday as Coldwater comes to town.
Phone: (419)586-2371, Fax: (419)586-6271
All content copyright 2005
The Standard Printing Company
P.O. Box 140, Celina, OH 45822