By Gary R. Rasberry
grasberry@dailystandard.com
COLDWATER -- A surge of offense and defense at the start of the third quarter helped Coldwater pick up their ninth win of the season with a 53-39 triumph over the Botkins Trojans at the Palace on Tuesday.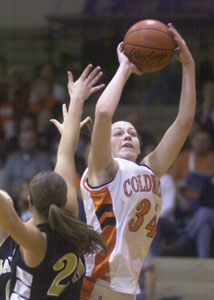 The Cavaliers go into Thursday's regular season finale against New Bremen at 9-10 as the Trojans fall to 4-15.
The Cavaliers looked to put the game away in the first half by getting a five-point lead with 95 seconds left to go, but quick Trojan baskets by Jayme Kreitzer and freshman Trisha Mullen in the final six seconds allowed Botkins to get back into the game and trail 21-20.
Things started off well for Coldwater to start the second half. After a Botkins turnover and Renee Hemmelgarn free throw, the Cavaliers got a steal and Tasha Stucke coverted it into a layup to make it 24-20. Another Botkins turnover turned into two more points for Kelly Obringer.
Botkins finally scored with 5:51 left in the quarter to break the streak but the Cavaliers continued their hot shooting, pushing the lead to 39-29 after three quarters of play. "We talked to the girls at halftime about playing hard all the time," said Coldwater coach Nick Fisher. "I thought in the second half we played harder and a little bit smarter. We got a little bit of separation in the first half but didn't extend it."
What made Fisher happy was that the Cavaliers were getting scoring from multiple players. Leading scorer Kendra Robbins was defended with vigor by the Trojans, limiting her to just eight points thanks to two long threes and a pair of free throws.
Others began to step up as Robbins, who was 2-of-12 in the game, struggled to find her rhythm. Amber Heyne stepped up off the bench and finished with a team-high 11. Obringer, the other post player for the Cavaliers, added 10 points and seven rebounds.
"It's been awhile since we've had that happen," said Fisher. "Early in the season, we had it where one person was down, three or even four others would pick it up. We missed that for a while. Leah (Wenning, who finished with six points) played solid for us. Having scoring come from more than one spot makes us harder to defend."
Botkins would get no closer than nine points in the final quarter as the Cavaliers continued to keep up the defensive pressure. While forcing 17 Botkins turnovers, Coldwater took good care of the ball, turning it over just nine times in the game.
"Our goal is 12 or less," said Fisher. "There haven't been too many games where we have had that. That's a major positive."
Botkins was led by Mullen's 12 points while Alisha Grieves added 10.
Coldwater wraps up the regular season on Thursday as New Bremen comes to the Palace for a MAC tilt.
Phone: (419)586-2371, Fax: (419)586-6271
All content copyright 2005
The Standard Printing Company
P.O. Box 140, Celina, OH 45822