By Kelly Braun
kbraun@dailystandard.com
Students this week are learning lessons in nature and music from the Bamboo Orchestra of Japan.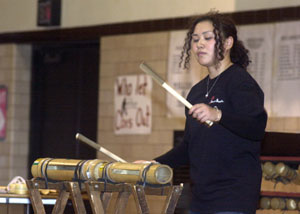 The orchestra has traveled to Coldwater, St. Henry and Fort Recovery schools to perform and teach students about the 20-plus instruments made from the bamboo plant. On Saturday the group will be giving a public concert at Arts Place in Portland, Ind.
The musicians told the students each instrument's Japanese name, described how the instruments are made and demonstrated how each instrument is played. Different types and sizes of bamboo are used and crafted in such a way to create various tones -- from the booming bass tones of the large jegog marimba to the graceful whistle of the shinabue flute.
"The hollow structure makes great musical instruments," the musicians' translator told the students about the bamboo plant.
The musicians performed on various sizes of flutes and percussive instruments. They even performed a few songs the students would recognize, such as "Under the Sea" and "Happy And You Know It." The translator said the group performs year-round throughout the world and recently traveled to France and Costa Rica. They are also well known in Japan, where the traditional music is popular, she said. Performing for the students this week was a four-member troupe, but the public performance on Saturday will include six members. Two of the members this week were working to repair some of the bamboo instruments that were effected by the drier climate in Ohio.
The students also learned about bamboo, which is actually a type of grass. The musicians, through the translator, told the students there are 1,200 different kinds of bamboo in the world, and bamboo can grow to 50-60 feet high. They also showed the students some of the other ways the Japanese use bamboo by holding up chop sticks, cooking utensils, a fishing pole and toys.
The translator said the group enjoys traveling and teaching students about Japanese culture.
The performance of the Bamboo Orchestra was brought to the local schools by Arts Place as part of its Midwest World Fest. The fest is a community-wide cultural program, based out of Minneapolis, Minn., that uses music and performance art to teach students in the Midwest about diversity and other cultures.
Phone: (419)586-2371, Fax: (419)586-6271
All content copyright 2005
The Standard Printing Company
P.O. Box 140, Celina, OH 45822