NEW KNOXVILLE -- The Marion Local Flyers had plenty riding on Thursday's regular season wrap-up against the New Knoxville Rangers.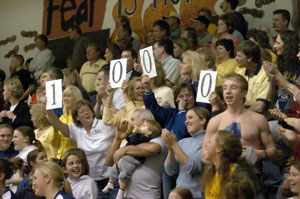 First on the docket was grabbing an outright Midwest Athletic Conference title, something the Flyers last did in 2001.
Next, was finishing the season with an undefeated record, which Marion coach Treva Fortkamp knows a little about. Fortkamp was a junior on Marion's last undefeated team, which went through the 1984 season unscathed.
Finally, point guard Maria Moeller needed just 11 points in the game to become the fifth Lady Flyer to reach the 1,000-point plateau.
Though the feisty Rangers made things interesting, the Flyers managed to accomplish all three tasks in a hard-fought 52-37 victory. Marion finishes the regular season at 20-0 overall and 9-0 in the MAC, while New Knoxville falls to 12-8 on the year and 3-6 in conference play.
"This game was filled with emotions and the girls had a lot of things on their minds," said Fortkamp. "We've had some great leadership by our seniors both on the floor and off it, and they got the job done."
Like many of their MAC wins this year, this one didn't come easy. The Rangers counterpunched with the Flyers throughout the first half and tied things up at 13-apiece after Nicole Wright drove the lane for two with two minutes remaining. The Flyers went on a 6-0 run at the end of the second quarter, though, and brought a six-point lead into the locker room at halftime.
Things stayed close early in the third quarter, as two free throws by Wright brought the hosts within four at 25-21.
At that point, Maria Moeller took things into her own hands.
After hitting one of two free throws, the junior scored on a conventional three-point play to bring her to within one of the four-figure career mark. On Marion's next possession, Moeller drew a foul and calmly drilled the first free throw, after which the game was stopped and Fortkamp presented her with the game ball.
Moeller then hit three straight free throws and Jenna Barhorst scored on a stickback that ended a 10-0 run which put the Flyers up 35-21. The Rangers managed to draw within 10 points at the end of the third, but a layup and a three-ball from Moeller at the start of the fourth quickly put the game out of reach.
"We felt the two things we had to overcome were their rebounding and their pressure on our perimeter," said New Knoxville coach Dwain Meckstroth. "We couldn't get the ball down where we wanted it very easily, and that's a credit to them. They just did a better job of executing than we did, and that's why they're 20-0."
The impending accomplishment seemed to hinder Moeller early, as she missed her first six shots and ended the first half with just four points.
"I think it might have played a part because I knew I was going for it and maybe that's why my shots weren't hitting," said Moeller of her early struggles. "Once I got the monkey off my back I started shooting a lot better. It's a great feeling because of all the great players in Marion's history and it makes me feel good to be a part of that club."
Fortkamp, who is third on the all-time scoring list at Marion with 1,571 points, couldn't resist a good-natured jab at Moeller.
"I told her she might catch us, but we had the big ball (as opposed to the smaller ball used now in girls basketball) and no three-point line, so she's got an advantage," said Fortkamp. "But seriously, hats off to her. It hasn't happened in a long time at Marion, and she deserves the recognition because she's put her time in and worked hard."
Moeller led all scorers with 21 points, and Barhorst added 15 for the Flyers. Wright's 10 markers paced the Rangers.
With a sparkling regular season behind them, the Flyers now look to the tournament, and Fortkamp wants to make sure her squad doesn't rest on its laurels.
"Being 20-0 doesn't matter anymore, we're 0-0," said Fortkamp. "I just told the girls to take it one game at a time. It doesn't matter how you do it, if it's a 'W'â you go on and if not you go home."
New Knoxville begins sectional action Tuesday at New Bremen in a 6:15 p.m. game against Fort Recovery. Marion will play the second game Saturday against the winner of Tuesday's other game between St. Henry and Spencerville.