By Ryan Hines
rhines@dailystandard.com
FORT RECOVERY -- The Fort Recovery girl's basketball team jumped out to a quick start and a balanced offensive attack did the rest as the Indians cruised past Parkway, 62-25, in the season finale for both teams.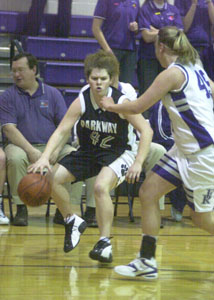 The quick start allowed Fort Recovery to clear its bench early and all 10 players that stepped on the floor for the Indians dented the scoring column.
Holly Stein led the balanced Indians attack with a game-high 12 points while Tiffany Gaerke added 10 points. Krystal Rammel contributed eight points to the Indians' cause to go along with seven points each by Vicki Roessner and Megan Wenning.
Parkway was outmanned and it showed from the tip-off as Fort Recovery scored the first nine points of the game leading to a Panthers timeout.
Addie Hays scored six points in the first quarter for Parkway but the problem for the visitors was that Hays' six points were all that the Panthers could manage to score in the entire first eight minutes of action. The problems mounted in the first quarter for Parkway as Hays picked up her second foul at the 1:59 mark.
With Hays, Parkway's best player, saddled to the bench in foul trouble, Fort Recovery responded with a 12-0 run to end the first quarter expanding its lead to 25-6 after the first quarter.
Gaerke led the Indians' charge with seven points in the first quarter. Fort Recovery shot 56 percent in the first quarter to jump out to the big lead which was also aided by 12 Parkway turnovers, many of which led to easy fastbreak layups.
The Fort Recovery lead hovered around the 20-point mark through the second and third quarters before the Indians dominated the final stanza.
Stein and Sara Fortkamp each buried treys to open the fourth quarter and teammate Kelly Link added a pair of free throws before Parkway's Ashley Gamble stopped the Indians' streak with a three-point shot of her own.
Gamble's three-ball came at the 5:41 mark of the fourth quarter and Fort Recovery then rattled off 11 unaswered points before a meaningless bucket with just 11 ticks left on the clock. In all, the Indians outscored the Panthers 19-5 in the final stanza.
Parkway was unable to get any consistent offense against a stingy Fort Recovery defense. The Panthers shot just 25 percent from the field and turned the ball over 32 times.
Fort Recovery (15-5, 7-2 MAC) moves on to Division IV tournament action on Tuesday at New Bremen to face New Knoxville while Parkway (1-19, 0-9 MAC) heads to Van Wert also on Tuesday to face Fairview in Division III sectional play.
Phone: (419)586-2371, Fax: (419)586-6271
All content copyright 2005
The Standard Printing Company
P.O. Box 140, Celina, OH 45822