By Gary R. Rasberry
grasberry@dailystandard.com
WAPAKONETA -- One of the signs of a good team is being able to hold one's composure when things get rough.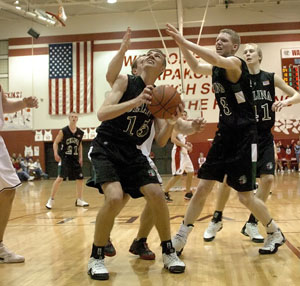 After committing just four personal fouls in the first half, the Celina Bulldogs were hit with just as many in a two-minute stretch of the third quarter as Wapakoneta came back from seven points down to tie the game at 32-all with 2:55 left in the quarter.
Celina kept its composure, and in return kept its chances for a Western Buckeye League title in line with a 54-43 win over the Redskins at Wapak High School.
The win puts Celina at 13-5 overall and keeps them in control of first place in the WBL at 7-1. With St. Marys beating Bath and Elida downing Van Wert, the Bulldogs and Roughriders will battle for the league title next Friday at the Fieldhouse.
The Bulldogs were able to mix in a good game of defense along with clutch shooting to get the win. "I told the kids after the game that it was a real gutcheck on our part," said Celina coach Mike Kanney. "We had guys in foul trouble and guys coming off the bench to step up."
The things looked rough for Celina as Brandon Wurster and Aaron Braun each picked up a third personal foul within seconds (Continued from page 7)

of each other. Kanney, needing to get two of his bigger scorers off the floor, sent in Nick Grieshop and Andy Muhlenkamp in to fill in. Grieshop's duty was to keep 6-6 Wapak center B.J. Reed from dominating the inside. Reed just had three points in the second half -- all from the foul line -- and Grieshop added two points and two boards.
"I thought Nick did a good job of fronting (Reed) and not letting him get a good look," said Kanney.
After Wapak tied it at 32, Celina snapped back. Seth Staugler hit a layup and was fouled to make the score 34-32. After trading turnovers, Scott Luthman added a pair of free throws to move the lead to four. Eric Klosterman added a bucket with the clock under 10 seconds to put Celina up 38-32 going into the fourth quarter.
With both teams fouling heavy in the third quarter, the foul line became key in the fourth quarter. Celina, a 71 percent free throw shooting team answered the call, making 12-of-14 in the final eight minutes -- 16-of-21 overall.
"The big thing was we stepped up and made some big free throws down the stretch," said Kanney. "Once we got to the line and made some throws, we were able to pull away a bit."
Wapak did its best to stay in the game even as the Celina defense shut down leading scorer Austin McCormick. With Klosterman and Grant Riesen playing tight defense, The 5-11 senior was held to five points, eight under his season average.
"Grant and Eric did a great job of keeping in front of him," said Kanney. "That was one of the biggest things they did. (We didn't) want him out there shooting threes."
Josh Brown, Randy Schmerge and Adam Tuttle each stepped up and scored in the void of McCormick. Brown led the Redskins with 12 points while Schmerge and Tuttle added eight each.
"Adam is capable of giving up 12 points a night, but the problem is his health," said Wapak coach Brian Vorst. "His feet hurt so bad he might not even be able to take the floor tomorrow. He played so much tonight. ... I respect the effort he gives. It all comes down to getting Austin his shots."
Celina was led by Scott Luthman, who stepped up big in a second quarter run and finished the night with 19 points, including a perfect 6-of-6 from the line. Staugler was 7-of-9 from the line for 14 points. The Bulldogs took care of the ball, committing just nine turnovers.
"Celina is a very good basketball team. They're fundamentally sound, they hit the boards and shoot the ball well," said Vorst.
Celina wraps up non-league regular season play tonight with a trip to Lima to play Lima Central Catholic. Wapakoneta (8-9, 2-6) makes the trip to Mercer County tonight to play the Coldwater Cavaliers.
Phone: (419)586-2371, Fax: (419)586-6271
All content copyright 2005
The Standard Printing Company
P.O. Box 140, Celina, OH 45822