ST. MARYS -- The St. Marys Roughriders did their part to set up the showdown for the Western Buckeye League title as they defeated the Bath Wildcats 55-40 Friday night at McBroom Gymnasium.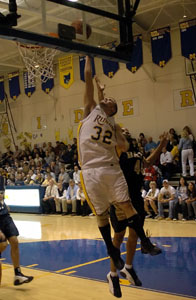 With the win St. Marys improves to 16-2 overall and, more importantly, improve to 7-1 in league play. Bath falls to 5-12 and league play at 1-8
St. Marys will travel to the Fieldhouse in Celina on Friday looking for a shot at the outright league tile, as Van Wert fell to Elida and Celina defeated Wapakoneta.
St. Marys will close out its home schedule on Tuesday against St. John's.
Like many game this season, St. Marys combined defense and timely scoring as their winning formula. On the night St. Marys held Bath to just 17 field goals and forced 18 turnovers. The St. Marys defensive effort was disciplined as well as they allowed the Wildcats to go the line just three times all night long and committed just eight teams foul.
"We tend to be pretty good defensively and we don't give up too many points," said St. Marys coach Josh Leslie. "We are not the flashiest team offensively but we do the little things to get things done offensively, but our game really comes down to our defense.
"Overall, we are solid enough that we just know enough and do enough to win," continued Leslie. "You look at our scores and you have to wonder what is going on as we don't blow people out because but we don't let you score a lot of points but we score just enough points to win."
St. Marys used a great defensive effort to offset offensive problems of their own in the early going to take command of the game. In the first half, St. Marys held Bath to just 6-of-18 shooting and forced 12 turnovers.
On the offensive end, St. Marys was able to hit on just 8-of-26 shots from the field in the first half but they were able to connect on 8-of-9 from the free throw line. Wes Clark led the way offensively with 11 points.
Bath used a 9-3 run to start the second half to pull to within three as 28-25 on a a lay-in by Brock Best with 5:30 left. That was to be as close as the Cats were to come however as St. Marys went on a 15-7 run over the remainder of the quarter to take control again, 43-32 by the end of the period.
In the third quarter, St. Marys hit on seven of eight shots from the field. In the second half the Roughriders hit on 11-of-17 shots from the floor.
"We talked at halftime about attacking them on the offensive end,"said Leslie."In the first half we took some bad shots, we gave them space and didn't body up (Continued from page 7)

against them. In the second half we attacked them on both ends.
" I thought we did better job on the glass in the second half," continued Leslie. "We were able to rebound and get some easy transition baskets. A lot of our offense comes from our defense and if we can get out and run and play four-on-three or three-on-two than have to play five-on-five it is to our advantage because we don't have the size all the way across to do that."
C lark led the St. Marys attack with a game high 16 points. Adam Johns added 14 and Todd Graves chipped in 10 points and a team high seven rebounds.
Phone: (419)586-2371, Fax: (419)586-6271
All content copyright 2005
The Standard Printing Company
P.O. Box 140, Celina, OH 45822