By Margie Wuebker
mwuebker@dailystandard.com
Theirs is a love story that began with a box of homemade cookies and an accompanying letter sent from Mercer County to war-torn Iraq.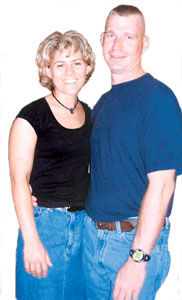 Tracy Wietholter of Maria Stein remembers the day she saw the name -- Pfc. Bill Stachler -- on her mother's refrigerator. At the time he was just another area serviceman stationed in a faraway land who her mother was writing to.
"My brother Ben spent a year over there," the 29-year-old woman says. "I know how much care packages and letters from home mean."
Her mother said Stachler was the relative of a co-worker and she thought he was 19. Wietholter later discovered the U.S. Army infantryman was a 32-year-old Burkettsville man whose home was less than 10 minutes from her workplace, Schlarman's Health Center in Wendelin.
Wietholter added the name to her list of local servicemen to whom she sent care packages, and he received his first box of homemade cookies along with a cheerful note in May. "I bake cookies every week for care packages," she says. "I have no ulterior motive. Baking cookies is the least I can do for guys putting their lives on the line day after day. I want them to know how much I appreciate what they are doing."
Although care packages go out regularly, the one to Stachler yielded her first reply.
"I thought getting a box of cookies from a girl I didn't know was pretty cool," he says with a chuckle. "I always try to respond to each letter and care package I receive."
Admitting he is someone who likes to joke around, Stachler added a line that is now strangely prophetic -- "If your cooking is as good as your cookies, I'm coming home to marry you."
Wietholter laughs recalling that letter. A lot of guys in her brother's unit had uttered marriage proposals while munching on cookies. The latest comment was just another line, and she was not in the market for a husband.
The two continued to correspond, although the letters were no different than the seven or eight others she mailed each month.
Then in early September Stachler came home from Iraq for 15 days of rest and relaxation. He placed a call to the health center and learned Wietholter would be working until 5:30 p.m.
The bell rang as a customer entered the front door of the business that afternoon. She looked up to find a man in military uniform standing at the counter with flowers in hand.
"I wanted to do something nice to show my appreciation for all the cookies she made," Stachler says. "I asked her out to dinner but she refused, telling me I should spend the time at home with family."
The soldier, who admits to being a persistent fellow, called the next day and asked her to accompany him to a wedding reception. She agreed to go somewhat reluctantly.
"We clicked," Wietholter says. "There is simply no other way to describe it."
Following the reception, the couple went to her Maria Stein apartment and talked for hours. They dated during the ensuing days, and he kissed her goodbye before heading back to Iraq.
"Thank heavens for modern technology," Wietholter says. "We talked on the phone and e-mailed back and forth on a daily basis. I knew in my heart that he was the one."
Stachler also did a lot of serious thinking about the woman "whose smile brightens an entire room," pointing out that being serious has never been his forte.
When the Iraqi tour of duty ended in November, Wietholter and his mother (Phyllis Stachler) flew to Fort Lewis, Wash., to welcome him home. The gesture left no doubt in his mind that the future included a marriage proposal.
The moment came Dec. 22 -- six days before his return to Fort Lewis after holiday leave.
"I hung the engagement ring on the Christmas tree," he says. "Then she came back into the room and told me we were going to wait (to open gifts). I had to get the ring back off the tree and into my pocket without her seeing."
Stachler says this went on a couple of times, but his persistence won out in the end.
Wietholter opened the first gift and found an angel for her Christmas tree. He suggested she hang it on the tree, and there she saw a ring sparkling in the glow of the holiday lights.
The couple plan to marry in June or July during his summer leave. Another deployment is likely, but Stachler holds little stock in rumors until word comes to pack up and head out to foreign shores. Until then, he will continue serving as lead vehicle commander in his platoon at Fort Lewis.
"I am always happy and I firmly believe happiness comes from within," she says. "I have found someone to share my happiness with."
Stachler cannot comprehend a future without his favorite cookie baker and soulmate.
"I had to go all the way to Iraq to meet this wonderful person who lives and works not far from where I grew up," he says. "I went out with her once and it felt so right. This is the stuff of which fairy tales are made. Now it's up to us to live happily ever after."
Phone: (419)586-2371, Fax: (419)586-6271
All content copyright 2005
The Standard Printing Company
P.O. Box 140, Celina, OH 45822