By Janie Southard
jsouthard@dailystandard.com
Tank, a 5-year-old brown horse, is now healthy and looking for a good home, after many months of neglect.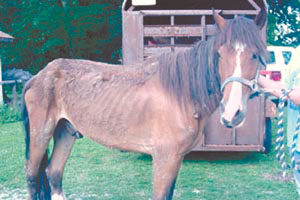 Tammy Kinstle, shelter manager for the Auglaize County Humane Society in Wapakoneta, mounted the rescue effort that saved Tank's life last July. During the past six months, the society has invested about $1,200 in nursing the horse back to health.
Now the society wants a good home for Tank; making a profit is not at issue.
"We'd like someone who has experience with horses and has a good place to keep him to make us an offer," Kinstle told The Daily Standard last week, adding she feels he would make a good 4-H project animal.
Last summer Kinstle got a call alerting her to an "abused" horse at a certain farm in Hardin County. She called the county sheriff's office. "I decided I'd give them a week to look into it. But I got another anonymous call that nothing had been done, so I went over there myself," she said.
What she found was a starving horse (an estimated 600 pounds underweight) living in an semi trailer atop a slight hill in a barn lot. The lot itself was all mud and no vegetation to eat.
The man living on the farm told Kinstle the horse belonged to his son, but the son had moved away and left the horse.
"The guy obviously had no idea what is involved in taking care of a horse. I don't think he had any idea how much they eat ," Kinstle said.
The man had been feeding the horse a handful of grain a day plus some hay from a stack beside the barn. For the rest, the animal was turned out into the lot to graze.
"The big problems with that whole arrangement were: one, a handful of grain is not nearly enough; two, the lot was pure mud and muck; and three, the hay had burned up in a fire and he didn't replace it," said Kinstle.
Hoping the man would give no trouble, she talked with him about taking Tank to the animal shelter. He was agreeable and the horse loaded easily in the trailer Kinstle and her husband had waiting down the road.
Tank has received care and attention at a local farm where he is boarded. The humane society has overseen his care and made sure he got all necessary medical attention and shots as well as nourishing food.
Kinstle said the horse is not broken for riding, but it appears he has been trained to pull a cart.
"He's a real nice horse and would give some horse lover a lot of pleasure," she said.
Phone: (419)586-2371, Fax: (419)586-6271
All content copyright 2005
The Standard Printing Company
P.O. Box 140, Celina, OH 45822