By Gary R. Rasberry
grasberry@dailystandard.com
The Grand Lake Area will be well-represented as district wrestling action starts up Friday and Saturday with the top wrestlers gunning for a trip to the state wrestling tournament at the Schottenstein Center in Columbus. In all, 30 area wrestlers representing four schools will compete in the second round of postseason.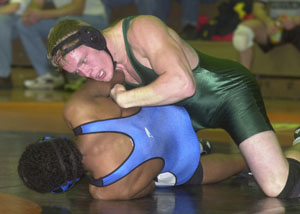 The Midwest Athletic Conference representatives of the area will be out in force at the Division III district at Xenia. Coldwater is sending 11 wrestlers -- out of a possible 14 -- to districts after finishing second at the sectional held at the Diane French Gymnasium at Lima Central Catholic High School. The 11 wrestlers heading to the next round sets a new school record for Coldwater, eclipsing the mark of 10 set last season.
"The kids wrestled well," said Coldwater coach Chuck Alig. "The neat thing about (sending more kids) is that there were two more teams at the sectional this season and we were able to send more."
Coldwater dueled all weekend against Division III powerhouse Bluffton. The Pirates won the sectional title with 223.5 points while Coldwater was second at 214.5.
One Cavalier won a sectional title as Brian Uhlenhake continued a fine season in taking the 171-pound title with a pin over Matt Saum of Lincolnview in just 45 seconds in the final. Five other Cavaliers took runner-up. Heavyweight Craig Homan earned his runner-up after not being able to continue after suffering a blow to the head in a previous bout. Assured of being among the top four moving on to Xenia, Homan sat out the final against Bluffton's Ben Doty as a precaution. Kyle Oswalt (215), Kyle Uhlenhake (189), Tyler Kunk (160) and Andy Schmidt (152) also earned runner-up titles.
In third-place matches, Austin Abels finished the 103 division in third with a win over St. John's representative Preston Vonderwell in a 10-8 overtime match. Nate Sides took third at 145 pounds with a 2-0 win over Kevin Marsteller of Allen East and Marty Hemmelgarn finished third at 135 pounds with an 11-0 win over Steven Bassitt of Allen East.
Earning fourth place and a trip to districts were Jarred Kohn at 112 and Ryan Muhlenkamp at 140 pounds.
Corey Knoth finished fifth at 119 pounds and will be an alternate in the event one of the top four cannot go to Xenia. Alex Uhlenhake placed sixth at 125 pounds.
"Basically, everybody contributed," said Alig. "Everyone pretty well won a match over the weekend."
The Cavs now head south for a chance to send wrestlers to state.
"Our goal is (making) the top five," said Alig. "If we can achieve the top five, we'll feel that we've done something."
Division I at Oregon Clay
Celina finished second overall at the Clay sectional and will send six wrestlers to Mentor this week. The district, known as 'The Meat-Grinder' because of the competition, features periennial big school powerhouses Lakewood St. Edward, Avon Lake, Elyria and Mentor.
MatDog Trent Hellwarth will look to make waves after picking up his 30th win of the season -- against just two losses -- in winning the 189-pound title on Saturday. Jantzen Hinton also moved on after finishing second at 171 pounds. The Gray family will have a full contingent as both Nick and Garrett Gray moved on. Nick took runner-up at 130 while Garrett finished third at 145.
"We could have had 10 or 11 out based on the brackets," said Celina coach Joel Zacharias. "They wrestled good."
Patrick Bailey also earned a trip to Mentor by finishing fourth at 125 pounds. Cody Wagner rounds out the MatDog group after finishing second at 140 pounds.
"Most of them have been to the districts and know what it's all about," said Zacharias. "A few of them have some goals set."
Division III at Covington
Meanwhile, at Covington, Versailles captured the Division III sectional with a team score of 206.5 pounds, handidly beating out runner-up Miami East's 178 points.
Nine Tigers move on to Xenia -- with some possible rematches of the last week's dual match that Coldwater won -- to vye for a spot at state.
Earning championship titles on Saturday were Dave Bernholt, who captured the 145 crown with a close 3-2 win over Blaine Klaus of Mechanicsburg. Eli Oliver won the heavyweight title with a 3-2 win over Ben Nelson of Miami East.
Finishing second at the sectional were Kyle Kueterman (130), Russ Beisner (171) and Mark Keiser (215). Aaron Condon took third at 140 pounds while fourth-place winners include Derek Oliver (119), Jason Baird (125) and Cody Grieshop (160).
Division II at Fostoria
St. Marys will send four wrestlers to Galion starting Friday as the Roughriders finished fourth overall. Western Buckeye League powers Wapakoneta (265), Elida (179) and Van Wert (167) completed the 1-2-3-4 league sweep with the Roughriders scoring 162 points.
The Roughrider lighter weights came up big as Caleb Cisco captured the 103-pound title with a fall over Paulding's Dustin Cranahan in 3:28. Adam Maze also earned the top spot on the podium with an 11-2 major decision over Fostoria's Dan Jordan in the 119 championship bout.
Josh Cisco moves on after losing to Ottawa-Glandorf's William Laibe via default. Freshman Brad Hardee also moved on with a second-place showing at 135 pounds, losing to WBL champ Josh Bordner of Wapak via pinfall. Travis Neal also moved on, placing third at 215 pounds. Josh Toler rounded out the automatic qualfiers with a fourth-place showing in the 130-pound division.
Phone: (419)586-2371, Fax: (419)586-6271
All content copyright 2005
The Standard Printing Company
P.O. Box 140, Celina, OH 45822