By Gary R. Rasberry
grasberry@dailystandard.com
ST. HENRY -- It's one thing to scout games and watch videotape to see how St. Henry's size can impact a game.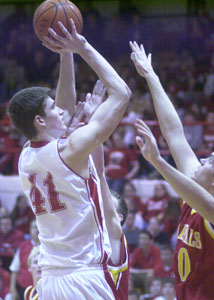 Then there's actually teeing off against 6-9 Kurt Huelsman and the 6-5 tandem of Ross Niekamp and Nate Stahl.
Mike Ernst's New Bremen Cardinals got that opportunity on Monday and the Redskins posted a 54-37 win over the Cardinals in a rescheduled Midwest Athletic Conference game held at Redskin Gymnasium.
St. Henry heads into Friday's regular-season finale with Marion Local with a record of 17-2 overall and 7-1 in the MAC. The Cardinals drop to 13-6 on the season and 4-4 in the conference.
While Huelsman did his part in knocking away Cardinal shots, recording seven blocks in the game, it was good old hand-in-the-shooter's-face defense that played a major factor. New Bremen started the game missing its first 11 shots and ended the first half shooting a chilly 5-of-32 (15.6 percent) from the floor leading to a 28-12 deficit at the end of the first 16 minutes.
"We didn't shoot the ball well and our shot selection wasn't very good," said New Bremen coach Mike Ernst. "We really hurried a lot of shots. That just put us in a hole. We had a couple breakdowns on defense, but you just can't come in here and score 12 points in a half and expect to be in the game.
"I don't know if we were a little intimidated by their size. We took far too many threes right off the bat (5-of-22 in the game). Give St. Henry a lot of credit, they had a lot of effect on that 5-of-32. Their size had a factor. You don't appreciate it or notice watching someone else play them or watching film. But boy, when you're out there, you see how big they really are. They make it tough to get good shots," added Ernst.
It also didn't help that St. Henry started off strong on offense as well. Senior Jared Stammen found a groove behind the three-point arc early, making his first three attempts and going 4-of-5 on the evening from long distance to lead the Redskins with 12 points.
"The kids have done a nice job recently of coming out, being focused, and playing very aggressively on both the offensive and defensive end," said St. Henry coach Joe Niekamp. "That has led to some really nice starts for us where we've been able to get in command pretty early. After that, the game settled into a bit of a see-saw."
After the 19-5 start for St. Henry, the game was 35-32 for the final three quarters in St. Henry's favor. The Cardinals were able to sport a run in the third quarter as Scott Steineman hit a hot streak after a cool 3-of-12 first half. Steineman finished the game with 22 points, accounting for nearly 60 percent of New Bremen's points.
"He had a nice night," said Niekamp. "I would have liked us to step out and slow him down some, but he made a few shots. You've got to give him credit."
"After the first quarter, I thought we played okay," said Ernst. "You can't spot a very good team whatever our deficit was at the end of the first quarter."
Huelsman finished with 11 points and 12 rebounds to go with the seven blocks.
Ross Niekamp added 11 more points with nine boards.
While St. Henry is entertaining Marion on Friday, New Bremen makes the short trip south on Ohio 66 to face Minster.
Phone: (419)586-2371, Fax: (419)586-6271
All content copyright 2005
The Standard Printing Company
P.O. Box 140, Celina, OH 45822