By Ryan Hines
rhines@dailystandard.com
The Celina girl's basketball team helped erase a bad memory on Tuesday night in Division II sectional action at Wapakoneta High School.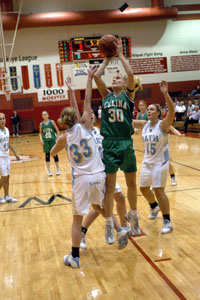 The Bulldogs held an 18-point lead at home against Bath on Jan. 13th only to lose in that regular season contest, but Celina made sure that a 14-point bulge was enough against the Wildkittens this time around.
"It's been a couple of years since Celina has won a tournament game and I'm just glad to see the girls get that," said Celina head coach Brian Stetler. "We got the win against a team in Bath, that is always good, so I'm really happy for our kids.
Celina (8-13) escaped with a 41-38 win and now gets the tall task of facing Division II's top-ranked team and Western Buckeye League rival, Ottawa-Glandorf on Saturday at 1 p.m. The Titans defeated Kenton, 66-25, to advance to Saturday's sectional final. O-G defeated Celina 50-18 in their matchup on Jan. 21st.
The strong play early by the Bulldogs seemingly generated confidence to all the players wearing the Green and White on Tuesday. Freshman Julie Snyder, a spot starter known mostly for her defensive and rebounding abilities, gave the Bulldogs a low-post scoring threat in the early going. Snyder scored four points in the first quarter with a couple of turnaround jumpers and added five rebounds.
"Julie is only a freshman and she has a lot to look forward to and I thought that she came ready to play tonight and we're looking for big things out of her in the future," stated Stetler.
Snyder teamed with sophomore Betsy Hone to give Celina the offensive firepower to provide the early advantage for the Bulldogs.
Hone played one of her better games of the season for the Green and White scoring a game-high 19 points to go along with a heady floor game and strong pressure defense.
"Betsy has the ability to score, play defense and rebound and she did that tonight, she had a great game," said Stetler. "For us to be successful we need girls like her to play well and we got that from her and a lot of others tonight. Betsy is capable of scoring like that for us."
"Hone was our focal point, the girl that we wanted to stop and then she goes out and scores 14 points in the first half so we obviously didn't do a good job of taking care of our focal point," said Bath head coach Greg Mauk.
Hone scored seven points in the first quarter as Celina was able to get out to a 13-9 advantage after the first eight minutes of action.
The Bulldogs shot 5-of-7 from the field in the quarter while holding Bath to just 3-of-7 shooting. The poor shooting for the Wildkittens continued in the second quarter as Bath went 0-for-6 from the field and converted on just 4-of-9 free-throw attempts as Celina began to build its lead.
Hone scored five points and Allison Hoying had three points while Kinsey Schumann and Liz Homan each added a deuce to help the Bulldogs push their lead to 12 points, 25-13, at halftime.
"I thought that the girls really came to play, that was a key, and they got off to a great start," said Stetler.
"Celina got off to a great start and I think that we compounded that by getting off to a poor start," said Bath head coach Greg Mauk. "We had a lot of good looks at the basket early and we just couldn't knock them in."
Following a three-pointer by Bath's Hannah Rockhold to open the second half, Celina responded with a 6-1 spurt to push the Bulldogs' lead to a game-high 14 points, 31-17, with 3:50 left in the third quarter.
Bath fought through deficit slowly but surely in the five minutes of game action. The Wildkittens closed the deficit to nine points entering the fourth quarter before Rockhold and Alex Dackin each canned three-pointers to pull Bath to within three points, 36-33, forcing a Celina timeout.
"We talked about how this game was turning into a lot like the first time that we played when we got ahead early and they came back," said Stetler. "I asked the girls who wanted to win this game more and that someone needed to step up. Our defense came through in the end and that was the key for us tonight."
Hone grabbed an offensive rebound and put it in for a deuce and Bath's Amanda Frisby added a layup of her own keeping the deficit at three points. Hone added two free throws before Amy Simindinger converted a conventional three-point play to cut the lead to two points at 40-38 with 2:45 left on the clock.
Celina ran its motion offense but turned the ball over with 1:35 left in the game but Rockhold misfired on a wide open three ball with a 1:00 remaining in the game. Hone had a chance to push the Celina lead to four points but missed the front end of a one-and-one opportunity with 31 seconds left in the game giving the ball back to Bath.
Bath, which called a timeout for a final play, was clearly trying to get the ball into the hands of Simindinger but teammate Jennae Tomlinson fired a wide open three-pointer that was off the mark and Hone rebound with three ticks left on the clock. Hone hit a free throw following an intentional foul on Simindinger to push the Celina lead to three points and Bath was unable to get off a shot as the buzzer sounded.
Simindinger ended the night with a team-high 15 points for Bath.
"Allison Hoying did a great job defensively on Simindinger," said Stetler. "That was her job tonight to follow her around and play good defense and she was able to do that."