NEW BREMEN -- They may not have been things of beauty, but Tuesday night's Division IV sectional semifinal games at Cardinal Gymnasium gave fans plenty of excitement and lots of rough and tumble basketball.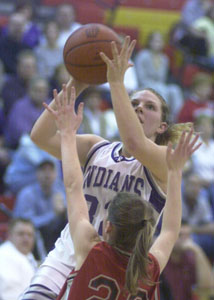 In an ironic twist, and certainly an indication of the sloppiness of play, both winning teams committed 27 turnovers apiece, which was more miscues than either losing team made.
In the opener, the Fort Recovery Indians overcame a subpar night of ball-handling with a couple key scoring spurts to beat the New Knoxville Rangers by a score of 45-31.
In the nightcap, the Spencerville Bearcats broke open a tight game early in the fourth quarter and went on to register a 65-57 victory over the St. Henry Redskins.
Fort Recovery, now 16-5 on the year, advances to Saturday's sectional final game against 16-4 Minster in a 6:15 p.m. start. Spencerville, now 14-7, will do battle with 20-0 Marion Local in a game that will begin approximately 30 minutes after the conclusion of the opener. Saturday's action will be a split session, with separate admission required for both games.
FORT RECOVERY/
NEW KNOXVILLE
The Indians certainly weren't on their game in this one, but a pesky press and in-your-face defense prevented the Rangers from ever getting into a flow offensively.
The first quarter was indicative of how the game went thereafter, as each team went through scoring droughts that lasted four minutes or more. The Indians didn't get on the board until Krystal Rammel hit a free throw at the 3:17 mark, but once they got going, they scored their points in bunches.
Tiffany Gaerke followed Rammel's free toss with a bunny, then Vicki Roessner dropped in two straight layups, and Rammel ended a 9-0 run with an inside bucket that gave the Indians an early 9-3 advantage.
The Rangers stayed close and were down by just seven with two minutes left in the half, but consecutive three-balls by Roessner and Holly Stein and a layup by Ciera Rammel gave the Indians a 15-point lead at the intermission.
New Knoxville made a couple runs in the second half to close the deficit. In the third quarter, a reinvigorated Ranger defense held the Indians scoreless for over six minutes to cut their deficit to eight points. The Indians quickly answered, though, and went on a 9-0 run to extend their lead to 17 early in the fourth.
The Rangers made one last effort and whittled the Indian lead to 10 with three minutes left, but the Indians played keep-away and hit enough free throws down the stretch to seal the win.
"At halftime we talked about going at them and not giving up, and they never gave up," said New Knoxville coach Dwain Meckstroth. "We had the lead down to eight and had the ball twice, but then we had two turnovers. I give them a lot of credit because they really fought back and didn't bow down at all in the second half."
Roessner and Stein paced the Indians with 12 points apiece, while Nicole Wright was the lone Ranger in double digits with 10.
With Saturday's big battle with Minster looming, Fort Recovery coach Jeff Roessner knows his squad will have to play better to stay with the Wildcats.
"With a 27-12 lead after halftime I really thought that would take some of the pressure off our kids but that second half might have been the ugliest half of basketball we've played all year," said Roessner. "I was disappointed in how we handled the pressure, and hopefully our young kids can grow up through this. For us to beat (Minster) we're going to have to play a great game and do a lot of things better than we did tonight."
SPENCERVILLE/ST. HENRY
All year long, the St. Henry Redskins have tried to play an up-tempo style that sometimes wears out opponents. Tuesday night, though, five determined Bearcats went the distance and didn't succumb to the grueling physical battle.
Spencerville coach Jim Baumgartner went with his five starters almost the entire game (they came out with 10 seconds left) but they managed to keep pace and then some with the St. Henry attack.
This one was tight throughout, as neither team gained more than a six-point lead until the Bearcats pulled away late.
St. Henry piled on the pressure right from the get-go and forced 10 Spencerville turnovers in the first quarter alone. When they weren't turning it over, though, the Bearcats were feeding it inside to Jessica Vorst. The 6-foot-2 junior was a force all night, scoring 27 points and pulling down 17 rebounds.
With the game tied at 31-apiece at halftime, a nip-and-tuck third quarter ensued where neither team could hold the lead for long.
A three-pointer by Erica Wilker brought the Redskins within one to start the fourth quarter, but the Bearcats began to pull away and built an eight-point lead after a stickback by Vorst with just under two minutes left.
The Redskins wouldn't go quietly, as Brenda Hemmelgarn hit a pair of threes to cut the lead to four with just over a minute to go. Vorst took over from there, though, as the junior hit two freebies and a bunny for the game's final points.
"We didn't have an answer for Vorst, and that really hurt us," said St. Henry coach Charlie Maier. "I think (Spencerville) did get a little tired, but not tired enough. We did cause a lot of turnovers, but we didn't shoot it well enough ourselves. They went into a 1-2-2 matchup and we started standing around, and that slowed us down."
Kayla Lefeld led the Redskins in scoring with 13 and Hemmelgarn chipped in 12. Anna Raines and Rachel Youngpeter joined Vorst in double digits with 11 points each.
After the game, Baumgartner talked about his strategy of sticking with his starters, but wouldn't commit to doing so Saturday against Marion Local.
"I usually try to give them breaks here and there but tonight I had to play them all the way through because it was win or go home," said Baumgartner. "I know Marion's got a deep bench and we'll have to make a game plan for that. I know they've got a good inside-outside game, and if we can try to contain some of their shooters, we're hoping that we can stay close."