It's not like the Battle of Grand Lake rivalry needed any more spice, but it certainly has that kind of a feel for Friday's annual showdown.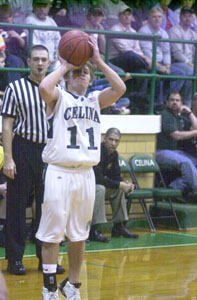 The buzz surrounding the upcoming game is as noticeable as it could possibly be as Celina tangles with St. Marys at the Fieldhouse with the Western Buckeye League title on the line.
"The atmosphere is going to be outstanding with the way the rivalry is and with the fact that there will be a league title riding on it," said Celina head coach Mike Kanney. "The Fieldhouse is always a fun and electic atmosphere but it will be extra special on Friday. There's a great anticipation surrounding this game and that's why the kids want to play the game. You should get chills just thinking about playing in a game like this."
"I think that the fans and everyone associated with each school is happy that the league title comes down to this one game with two rivals," said St. Marys head coach Josh Leslie. "Perfect scenario for the fans and believe me, the fans will be going at it all week leading up to the game because it's a rivalry but it's not just a rivalry with the teams, but with the fans as well. I think that it's going to be a crazy atmosphere. I love the old gyms like the Fieldhouse and our home court because it gets so loud and the teams can't help but feed off of that emotional environment."
St. Marys (16-3, 7-1 WBL) entered the season with title-contending expectations and they have achieved those lofty goals with strong defense and veteran leadership in the backcourt. Corey Vossler, Wes Clark, Tom Burke and Todd Graves are as experienced and talented a quartet as you'll find on one team in the WBL.
"St. Marys is a very good team and it all starts with their backcourt," said Kanney. "They have very good guards that have big-game experience. They are also tough to matchup with because of their strength."
Clark is the top offensive threat for the Roughriders scoring 15.2 points per game and Burke adds 11.8 ppg. While Vossler and Graves add five and seven points per contest, respectively.
Just because the experience lies in the backcourt doesn't mean that the Roughriders are weak on the frontline.
Adam Johns (6-5, sophomore) gives St. Marys a reliable option in the post with nearly 12 points and six rebounds per contest. Derron Steinke (5 ppg.) and Ross Quellhorst (3 ppg.) also give the Roughriders a little depth up front.
While most people were expecting St. Marys to challenge for the league title with other veteran clubs like Van Wert and Elida, it would be hard to find anyone that believed Celina was a possible WBL contender before the season started.
Eric Klosterman came off the bench for the Bulldogs a season ago and was the lone Celina returnee with any meaningful varsity experience.
The lack of experience certainly hasn't hindered the play of the
Bulldogs to this point as the Green and White are now 13-6 on the season and 7-1 in league play.
"I think that some of the fans are surprised with the way the season has transpired for Celina, but I don't think that the coaches around the league doubted what Mike Kanney and his staff can do as a coaching staff," praised Leslie. "I think that Mike is the Coach of the Year in the WBL hands down because he's done a fantastic job with very little experience returning at all. Remember, they are one basket away from beating Van Wert and having a perfect record in the WBL."
Celina's lone league loss came to Van Wert at the Cougar Den in the first WBL contest of the year on Dec. 10th. Ottawa-Glandorf handed St. Marys its only league defeat early in the conference schedule.
"We're always the underdog when we hit the floor and that's the mentality that we play with each and every game," said Celina senior Grand Riesen, who is one of six Bulldogs that will be playing their final home game at the Fieldhouse on Friday. "People still don't think that we can beat St. Marys but that's alright, we're used to being the underdog."
Celina has made up for the lack of experience with an aggressive defense and a lethal shooting touch from three-point range.
Aaron Braun leads the Bulldogs at 12.3 ppg. but he has had plenty of help from guys like Scott Luthman (10.9 ppg.), Brandon Wurster (10.2 ppg.), Seth Staugler (9.7 ppg.) And Klosterman (7.8 ppg.).
Celina has been able to stretch opponents' defense with a three-point barrage as all five Bulldog starters are more than capable of hitting from beyond the three-point arc. The Bulldogs have hit 103-of-310 (34 percent) from long range on the season.
Although both teams are talented on the offensive end of the floor, Celina and St. Marys find themselves playing for the league title mainly because of defense.
The Bulldogs and Roughriders are very intense on defense limiting the opponents' easy baskets which could lead to a low-scoring game on Friday which wouldn't exactly surprise either Kanney or Leslie.
"Both teams are defense-oriented teams and both teams like to be able to score off of their defense, but I would expect to see another low-scoring game, which has been typical of this game over the years," stated Kanney.
"When we are on defense, we have to be able to find their shooters at all times and make sure that they don't get open looks at the basket, especially from three-point range," said Leslie. "All five of their starters can catch and shoot and they are very good at that, so our defense will be challenged. I don't expect it to be an 85-80 game by any means. I think that both teams will be trying to continue what they've done all year, and that's play strong defense."
Celina is looking for its WBL-best 16th league title and first since 2003. A win by Celina would also give the Bulldogs their first outright WBL title since the 199 season. St. Marys is searching for its ninth WBL crown and first since 1981.
"We know coming into the season that everyone was picking us to either finish in the middle of the pack or near the bottom of the league, so to win the WBL title would mean a lot and it would be very satisfying considering where everyone thought we would finish," said senior Aaron Braun.