By Gary R. Rasberry
grasberry@dailystandard.com
WAPAKONETA -- It seemed like St. Marys did all the right things in its attempt to beat Elida at the Division II basketball sectional at Wapakoneta.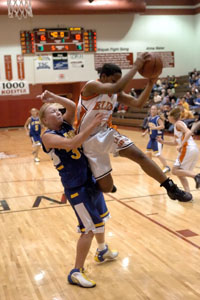 The Roughriders shot over 57 percent from the floor and outrebounded the Bulldogs 28-22.
But the one stat that haunted the Roughriders was turnovers. Twenty-three turnovers to be exact.
Elida had a 7-0 lead before St. Marys could get the ball past halfcourt. Despite a fourth-quarter effort that saw the game get as close as four points, St. Marys saw its season end by a 58-48 margin at Wapakoneta High School.
The Bulldogs (14-7) will play Shawnee on Saturday evening in the second of the two sectional final games to be played at Wapak. The Indians defeated Van Wert 51-44 in the first game on Wednesday. St. Marys ends its season with an 8-13 record. The Roughriders suffer the loss despite shooting nearly 16 points better than the Bulldogs (57.1 percent to 41.5 percent), but it was the rough start to the game that put the team in a hole. Elida's pressure defense caused four quick turnovers and Elida capitalized on those miscues, getting four points from Carla Warren and a three-pointer by Kelly Warris to make the score 7-0 with just 83 seconds off the clock.
"We didn't handle the ball very well," said St. Marys coach Bruce Brown. "That's a credit to Elida. They're quick, aggressive and put a lot of pressure on the ball. We worked on it for four days, trying to get a better handle on the pressure. Obviously, we didn't handle it well."
"We take a lot of pride in our defense," said Elida coach Sue Skinner. "Our kids work hard at it. It's the name of our game."
After being up 27-17 at the half, Elida pushed the lead to as much as 20 with two minutes left in the third quarter. St. Marys, though, made a little run to get it to 45-29 at the end of the quarter. Kerri Imwalle, held to six points in the first half, began to come alive, not missing a shot in the second half.
The momentum continued for St. Marys in the fourth quarter. Six straight points to start the quarter cut the deficit to 45-35 with seven minutes left, prompting Skinner to call timeout. It looked like Elida recovered when Warren scored to end the streak but Elida had a 49-35 lead with six minutes left when St. Marys made one last big run. A 9-0 run, with four different players scoring, helped get the Roughriders back in the game and when Imwalle scored while getting fouled and made the free throw, the Elida lead was down to 49-44 with 4:17 left.
Skinner called another timeout and had the team go into a conservative mode on offense. It was nearly two minutes before Marianne Conrad hit the front end of a two-shot foul to give Elida a six-point advantage. Warris hit a pair of tosses to push the lead back to eight and Conrad scored on a breakaway to put the lead back to 10. Elida hit all four of its free throws down the stretch to counter any late Roughrider scores.
"I'm proud of the way the kids battled," said Brown. "They kept doing things well and played hard. To win a game against a team like (Elida), you have to cut down on our turnovers. We didn't get that done."
"They (St. Marys) put on a 2-2-1 press and we had a hard time handling it," said Skinner. "Once our kids adjusted to it, we were a little bit more effective.
"You have to give St. Marys credit. They could have rolled over and died when they were down by 20. They kept clawing their way back."
Imwalle finished with 17 points and 13 rebounds for the Roughriders while teammate Toya Anderson added 16. Warren led the Bulldogs with 15 and Elise Jenkins added 12.
Note: The brackets originally released by Wapakoneta High School had Saturday's games being played at 1 p.m. and 3 p.m. which proved to be a typo by the school.
Saturday's games will start at 6:15 p.m. with Celina playing Ottawa-Glandorf, followed by the Shawnee-Elida game.
Phone: (419)586-2371, Fax: (419)586-6271
All content copyright 2005
The Standard Printing Company
P.O. Box 140, Celina, OH 45822