By Betty Lawrence
blawrence@dailystandard.com
ROCKFORD -- Todd Mathewson of rural Rockford began hunting with coon hounds at the young age of 15. Now 11 years later, he proudly claims ownership, along with two fellow coon hunters, of the 2004 Purina Outstanding Coon Hound.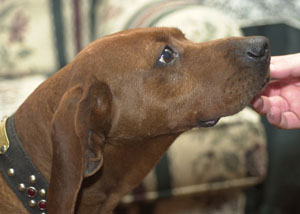 His dog, Nighty Nite Moonlight Kate, outperformed 14,000 other coon hounds throughout the 2004 Purina race circuit to win the coveted title. The brown-eyed beauty is a 6-year-old Redbone coon hound.
The award is the creme de la creme of coon hound awards, says Mathewson.
"You can't get any better than the Purina award. It is very, very competitive," he says. In the final trial, called the Battle of the Breeds, Kate was the top scorer in both days of the competition held in Oklahoma. At the trials, called "nite hunts," hounds are judged on their ability to run and tree raccoons.
"It was a really tight race this year, but I knew, after the second day of that trial, that she was top dog. It was really exciting," Mathewson proudly says. Kate also has several other awards under her paws. She was the Purina Redbone Best of Breed winner in 2002 and again in 2003, where she set a record 840 points for her breed. This year, her point total was 1,460.
The champion dog and her owners traveled 65,000 miles by vehicle and planes to 30 different states last year, competing in all but eight of the 43 Purina race trials. The dogs accumulate points at each trial to try to earn the most points by the end of the season, just like in Nascar racing, Mathewson says.
In coon hound language, Kate's proper name is GR NITE CH PR Night Nite Moonlight Kate. The GR NITE CH stands for Grand Nite Champion, and the PR is for Purple Ribbon, which verifies registry and guarantees breeding.
"These dogs are just like thoroughbred horses. You can trace their ancestry way back," he says.
Mathewson's love of the sport started when he went coon hunting with some friends in high school.
"Mom didn't like it at first because I would be out all night. I had to keep my grades up and get at least a .400 average in baseball to get my dog," he recalls.
He honed his coon hunting and dog handling skills over the years, taking dogs to trials nearly every weekend. His first dog was a Stephens Stock cur hound named Lady.
Coonhounds are instinctive hunters and train readily to follow a scent and tree their quarry. Speed is what makes a good competitive coon hound, Mathewson explains, adding that they need conditioning just like athletes.
"The dog has to be really fast and pick up the scent of the raccoon and have it treed before anyone else. That's what makes them heads above the rest," he says.
The dog will bay when it has the coon in a tree.
"The dogs have tracking collars on them so we can tell where they're at. You can tell when they get on a scent and when they have one treed, because their howl sounds different. It's a pretty neat experience, every time," he says.
In competitive racing, the raccoon must be visible before points can be scored. The raccoons are not killed, he says.
Mathewson became part owner of Kate two years ago and currently has four coon hounds. Redbone coon dogs have deep, shiny reddish-brown hair.
Kate's owners have been offered $50,000 for the outstanding dog, but no decisions have been made on her fate yet, Mathewson says.
"She likely will be retired from racing, because we don't want anything happening to her, and used for breeding," Mathewson says.
The dog has had one litter.
Winning the Purina Outstanding Dog award is a plateau and now that he has reached the top, Mathewson says he may cut back on running his dogs.
Present to accept the top award in January in Albany, Ga., were Mathewson, owners Dave Galliher and Dan Biggert, both of Oak Harbor, and handlers Bryan Smith, Montpelier, Ind., and J.J. Callahan, Graham, N.C. An original oil painting of Kate was given to the owners, along with engraved Purina award plaques, a satin banner, a year's supply of Purina brand dog food and a cash award.
All five men worked together to enter and run Kate in trials throughout the year.
"Winning the title was a team effort," Mathewson says. "It's rare that working class guys win the title because most of the dogs are owned by multi-millionaires. We're just your average working men who hold down jobs in addition to running the dogs. It's a great feeling."