By Janie Southard
jsouthard@dailystandard.com
FORT RECOVERY -- "Why can't Johnny read" is a question parents and educators have been asking for decades. This year, a Mercer County school district is working on an answer.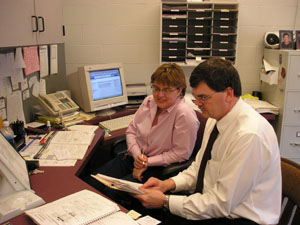 The Fort Recovery Local School District is serving as one of three pilot sites in northwest Ohio on track to answer that question and several more -- such as "Why can't Johnny understand math or express himself well?"
The program sorting out the answers is called Data Analysis for Student Learning (DASL, read dazzle), and it's the brainchild of Northern Ohio Area Computer Services Cooperative (NOACSC), of which the Fort Recovery district is a member.
NOACSC is a regional service provider offering services to public school districts in nine counties in northwest Ohio. It is one of 23 regional sites subsidized by the Ohio Department of Education to provide services to the whole state. As a matter of fact, state education officials will visit Fort Recovery soon to check out the DASL applications.
"This program (DASL) is far reaching with many components, but the main point is to streamline reporting and use of important data for the district, including student and assessment data from the standardized tests," said high school Principal Ed Snyder last week in his office. "For one thing, it takes all those 21 criteria that make up the state school report cards, all those strands kids are tested on and allows us to apply that data to the individual classrooms and students," added Chris Keller, district technical coordinator.
Why can't 10th-grade Johnny do math? Keller quickly pulls up Johnny's portfolio of information including his photo on the computer screen and homes in on his proficiency progression.
A chart unfolds showing his performance in the eight strands of math: measurement, arithmetic, geometry, data analysis, algebra, knowledge skills, conceptual and application.
"We can see in seconds exactly where he's struggling -- in this case, measurement, arithmetic and application. This way we won't have to review the whole subject and hope we hit what he needs. The strategies of our intervention team will be pointed toward the actual problems and not hit or miss," Snyder said.
Another of Johnny's screens displays his attendance record and all pertinent information: why he was absent, who called it in, etc. In fact, the home room teachers keep attendance on this screen and send the information to the office electronically. There are no more big hooks outside the homeroom door with the day's attendance slips and no longer does a student troop down to the office to relay who is here and who is not.
Snyder crosses to a tall file cabinet in his office and opens a drawer stuffed tight with papers. "This is just one place I'd have to hunt through to put together all the information I can now pull up on the screen with just a few clicks. The time savings is incredible," he said.
Another screen allows teachers to make and change their class seating charts, but the screen displays each student's photo in his/her seating position. This is especially useful for a substitute teacher when students sometimes decide to reseat themselves.
DASL also helps identify some surprisingly obvious flaws in students' test results, as Keller illustrated with the following story of an entire class missing the same bank of questions.
One junior high history class was overall very bright. So when the whole class did poorly on one part of the history test, she was astonished and couldn't understand it. Through refining the results with DASL, she discovered the one little item that stumped everyone.
When she taught the section on the American Revolution she named the English as the colonists' foe. But when the kids got to the standardized test, the correct multiple choice answer was "British," an unfamiliar term to the class.
"They'd never heard of that name because the teacher always said 'the English.' So now she's careful to emphasis that the English and the British are the same group," Keller said.