By Shelley Grieshop
sgrieshop@dailystandard.com
NEW BREMEN -- Washing windows is one of those jobs most people rate right up there with cleaning out closets.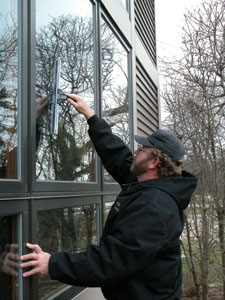 Ugh!
But Ron Adams, a professional window washer, looks at the task much differently. His occupation provides the father of four with flexible hours and helps his customers truly enjoy the beauty of their homes and offices.
"I've found a way to make money by doing a job others either don't know how to do or really don't want to do," says Adams, 51, of New Bremen.
As spring returns, Mother Nature's wrath is more visible -- layers of grime coat the glass and surrounding window frames. Longing for a glimpse of the bright sun, residents peer outside only to be greeted by a film of filth. That's when Adams' phone starts to ring.
In business year-round, he employs two full-time and five part-time workers. A true family business, his wife, Brenda, handles most of the scheduling and bookkeeping chores, while two of the couple's daughters periodically give dad a hand on the road.
Adams Window Washing workers trek across an eight-county area from Van Wert to Tipp City and from Bellefontaine to the Indiana line. Some of his regular work sites include the Mercer County Courthouse, area banks, store-fronts, fast-food restaurants and factories.
"My biggest job is Copeland in Sidney," he says, describing the half-mile long building that is completely lined in front with windows. "It takes days."
Adams meets a lot of people in his line of work and he befriends a lot of dogs, his wife says with a chuckle.
Don't expect to see Adams' crew tackling glass with old rags and a simple bottle of glass cleaner. A trusty squeegee (with an amazingly-long extension handle) and a secret cleaning mixture cuts the grime and leaves a streak-free shine inside and out, he claims.
The toughest cleaning problem is hard water spots, Adams says, adding that sometimes the stains are permanent.
Adams still works part-time for FedEx, where he once was a full-time employee. A decade ago, he convinced himself to venture into the field after talking to a friend in the window-cleaning business. Adams now has more than 700 accounts, both residential and commercial.
"Believe it or not, I never really get tired of this," he says.
Having windows cleaned professionally costs a lot less than people think, the couple says. Estimates can vary depending on the type, size and number of windows, Brenda Adams says.
"Smaller windows typically take more time than big ones because we also clean each frame," she adds.
With four daughters ranging in age from 9 to 14, Ron Adams says setting his own hours is probably the best part of his job.
"If one of the kids has a spelling bee in the middle of the day, I'm there. This job gives me flexibility to fill my most important job -- being dad," he adds.