By Ryan Hines
rhines@dailystandard.com
For the first time in over two decades, basketball may be the first thing on the minds of the St. Marys community.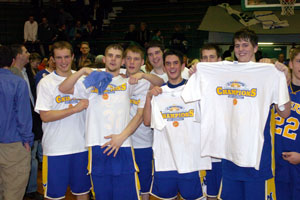 At least for one day, maybe.
The Roughriders won the Western Buckeye League title outright on Friday night at the Celina Fieldhouse as St. Marys posted a 41-36 victory in the Battle of Grand Lake. The WBL title is the first one for St. Marys (17-3, 8-1 WBL) since 1981 and its the 10th WBL crown in school history.
"This has to be the biggest win for us in a long time," said St. Marys head coach Josh Leslie. "Easily the biggest win for us since I've been coaching at St. Marys. I'm just speechless right now because I'm so happy for the kids because of all the hard work they put in to making this team a success. I think that they earned it and deserved it."
"I feel bad for the kids because they were so close to the league title and came up a little short, they're really down and disappointed but I told them about what a great year they had," noted Celina head coach Mike Kanney. "I know it hurts right now, but they accomplished a lot this year and have a lot to be proud of." When it mattered most, that's when St. Marys took control of the game and that game-changing swing happened behind the play of Corey Vossler.
Celina, which led for nearly all of the first three quarters, held a game-high, seven-point advantage at 34-27 late in the third stanza. Vossler, a 34-percent free-throw shooter on the season, sank two free throws late in the third quarter to pull the Roughriders to within five points heading into the final quarter of play.
Vossler began to create opportunities for his teammates by taking over a majority of the ball-handling chores and found Adam Johns under the bucket for two points starting the fourth quarter and then Celina was dealt a tough blow when leading scorer Aaron Braun was whistled for his fourth foul with 5:23 left in the contest.
With the size of Braun on the bench, Vossler asserted himself even more to penetrating and delivered a conventional three-point play just 10 seconds after Braun left the game to tie the score at 34-34 with 5:13 left in the contest.
"Our shooters weren't getting good looks on the perimeter so we had to get to the basket and we began to do that in the fourth quarter," said Leslie. "We wanted to do that the whole game there just wasn't many holes to the basket until a stretch in the fourth quarter and we finally went to it."
"They did a good job of penetrating to the basket and setting up layups for their big guys in the fourth quarter," noted Kanney. "They did what they had to do down the stretch to get the job done."
Another empty offensive trip for Celina led to another Vossler highlight play. Vossler grabbed the rebound and went the length of the floor before finding Adam Graves all alone under the basket for another Roughrider basket and a two-point lead, the first for St. Marys since early in the third quarter.
Despite the foul trouble, Braun came back on the floor for Celina at the 4:00 mark after a timeout, but the return of the teams leading scorer couldn't jump start the Bulldogs offense. Celina never looked comfortable against St. Marys' aggressive matchup zone and wound up scoring just two points the entire fourth quarter.
The lone two points for the Bulldogs, by Eric Klosterman on a spinning jump shot, in the final stanza came after another Vossler assist as the home team found itself down two points with 1:16 left in the game.
Tom Burke extended the Roughriders' lead to four points on a pair of free throws with 34 seconds left to play, Vossler air-balled the front end of a one-and-one situation and Wes Clark hit one-of-two from the charity stripe in the final few possessions but Celina was never able to challenge down the stretch.
Vossler stripped Klosterman on one possession while Wurster and Braun each missed open looks from three-point range in the final three possessions for Celina.
Three-point shooting has been an asset for Celina all season, especially at the Fieldhouse, but shot just 1-of-12 from behind the arc against the Roughriders.
"They switched up their defense and we just couldn't score in the fourth quarter," said Kanney. "When we got good looks we missed them, but our good looks were limited because they (St. Marys) play good defense."
"We've played good defense all season long and I think that was going to be a key for us coming into this game and we did a good job of it," said Leslie. "They are such a good shooting team that we were really concerned on getting out on their shooters at all times. They missed some good looks, but for the most part we did a good job of covering their shooters."
Johns quietly led St. Marys with 12 points and seven rebounds. Clark hit for nine points, Tom Burke had eight and Graves connected for seven points.
Scott Luthman hit for 12 points, mainly on mid-range jumpers, to lead Celina while Braun had nine points and a team-high eight rebounds and Klosterman had eight markers.
League champion St. Marys, which was denied a seed in an all-WBL sectional draw, opens tournament action on Wednesday against Bath at Lima Senior. Celina opens Division I sectional action against Anthony Wayne on Tuesday at Liberty-Benton High School.