By Ryan Hines
rhines@dailystandard.com
It was just six years ago when Josh Leslie took on the challenge of coaching at St. Marys High School.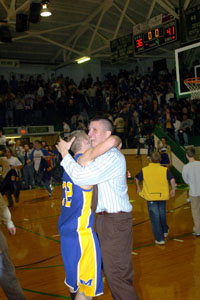 Football has always been THE sport in St. Marys, and deservingly so after all the storied success of the gridiron program.
Leslie looked at the success of the football program and had the vision to see opportunity of greatness ahead on the hardwood AND on the gridiron.
The quest that Leslie began six years ago reached its pinnacle on Friday night at rival Celina's home court as the Roughriders were crowned the outright WBL champion after a 41-36 victory over the Bulldogs.
Leslie admits openly that football is always the top dog at St. Marys, but he sees that as a positive in many ways. "One of the reasons that I took this job was because of the football program. I looked at this basketball program and wondered if I was able to get all the good athletes that play and have so much success in football to all play basketball, why can't St. Marys be a strong basketball school too," said Leslie. "We've started to get those guys that work so hard for football to put in the same amount of work for basketball too. When kids work that hard, there's no question that success will follow. The kids at the younger ages are starting to see that you can be into both football and basketball."
Success certainly has followed the hard work for this group of seven Roughrider seniors.
This is a special group of athletes according to Leslie.
"When I first started here, this group came to the gym before school in seventh grade and worked on their game," remembered Leslie. "This is just one of those groups that wants to work hard because they know that success will follow hard work. They came in at seven o'clock and worked, went to school and then had their junior high practice after school. They wanted it bad and worked for it."
Senior leader and point guard Corey Vossler remembers those early mornings as a youngster.
"I still remember going to the gym before school when we were in seventh grade and all of this group has put a lot of time and work into making our basketball program good," said Vossler. "We would come in at like seven o'clock in the morning, get some work in and I think that it really helped get us to where we are now."
Vossler is no stranger to success as the was the starting quarterback on the football team that finished as Division IIs state runner-up.
"I think that the success that we had on the football field this year definitely helped us out for the basketball season," acknowledged Vossler. "We got that winning attitude in football, and even though we started late in basketball, we had the same attitude in basketball. We just want to win."
The success of the season couldn't be much sweeter for Roughriders leading scorer Wes Clark.
Clark showed so much promise in the early going last year before tearing his ACL and ending his season. Clark returned with a vengeance this year and became the top offensive option on a title-winning team.
"This season couldn't have gone any better after last year when I was injured," said an elated Clark after receiving his WBL champion t-shirt from a teammate after the game. "We're just so happy to be the champions of the league and to win it in this type of atmosphere like tonight, it was awesome.
"We've wanted this for so long and worked so long to get to this point that it makes it so enjoyable now," continued Clark. "I've known for a long time that we have talent in this group and we put it all together this year. I knew that this group would never give up."
The players certainly deserve a lot of credit for this incredible season but they also appreciate the job that Leslie has done guiding the program along the way.
"I think that coach has done a great job building this program up from nothing," said Vossler. "I feel great for him too because I and the rest of the team all know how much he wanted this (championship) too. It was a perfect ending to a great regular season. I think that winning this ranks right up there with our run to the state final game in football. I just feel great."
A 17-3 basketball team that won a league title is certain to grab some attention in a sports-crazed town like St. Marys, even if just 320 Roughrider fans were able to see the crowning live.
Phone: (419)586-2371, Fax: (419)586-6271
All content copyright 2005
The Standard Printing Company
P.O. Box 140, Celina, OH 45822