By Margie Wuebker
mwuebker@dailystandard.com
Dr. Pamela Gardner, a cardiologist with the Heart Institute of Northwest Ohio, pulls no punches when it comes to heart disease and women.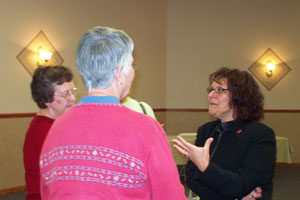 "Women face a risk two times greater than men of dying from heart disease," Gardner told 150 women in attendance at Ladies' Day Out. The event, sponsored by Joint Township District Memorial Hospital, took place Saturday morning at the Galleria in Celina.
"Heart disease is not a man's disease," she added. "We get it too. For every woman who dies of breast cancer, six will die of heart disease. It claims more women each year than all forms of cancer, AIDS and traffic crashes combined."
Study trials seldom involved women until 1990 when the National Institute of Health began recruiting them for such programs. Mortality rates have decreased for men and continue to rise for women.
"Women have done a good job getting regular mammograms," Gardner said. "But we need to be as assertive about our heart health as we are with the breast thing." Men typically experience angina pain while women often exhibit vague symptoms. Their problems go undiagnosed often smoldering for some time. Consequently, many women die suddenly without any apparent cardiac symptoms.
"Thirty-eight percent of women who have a heart attack die in the first year as compared to 25 percent of the men," Gardner said. "The reason is women had problems a long time before the attack."
Common symptoms in women include shortness of breath, nausea, indigestion, fatigue, arm, back and shoulder discomfort, feeling clammy and sweating. There may or may not be a feeling of heaviness, pressure or discomfort in the chest, neck, jaw or arm. A combination of these symptoms should trigger immediate action like calling 911 and getting to a hospital emergency room as soon as possible.
Gardner, who spent 27 years as a cardiopulmonary nurse before entering medical school, warned everyone -- men as well as women -- to be watchful for symptoms that appear during physical activity and disappear with rest. She noted her husband began experiencing a burning sensation in his right ear while running. The uncomfortable sensation quickly subsided after he took off his running shoes and rested. She called his cardiologist three times before tests indicated a problem requiring heart bypass surgery at the age of 45.
"If I hadn't been a witch 10 years ago and told that man to prove me wrong, my husband might not be here today," she said. "Don't let somebody blow you off because you're a girl for God's sake."
Major risk factors for heart disease include smoking, high cholesterol, physical inactivity, high blood pressure, stress and diabetes. Smoking becomes an even greater risk factor when a woman also takes birth control medication. While patients can address such problems, she quickly added there are risk factors over which no one has control -- family history, age and gender.
Multiple medications can be used to address blood pressure and cholesterol concerns. Garner and fellow presenter Chris Poeppelman, a registered nurse in the JTDM Hospital emergency room, stressed the importance of exercise, nutrition and weight control in achieving heart health. They also pointed out women as well as men need to know their "numbers," namely blood pressure and cholesterol readings.
New guidelines focus on waist measurement as well as body mass index to measure the need for weight reduction. Women with a 35-inch waist measurement and men with a 40-inch reading need to reduce the amount of calories taken in and increase physical activity.
"We put a lot of emphasis on money and financial fitness," Poeppelman told the audience. "Unfortunately, we devote far less interest and effort to health and heart fitness."
Increasing physical activity involves setting realistic goals and modifying behavior. Becoming more active is not difficult; take the stairs instead of the elevator or park in the far part of a shopping center lot instead of driving around until space opens near the entrance. Teaming up with an exercise partner makes working out more enjoyable, Poeppelman added.
New dietary guidelines released earlier this year also address increased activity. Thirty minutes of physical activity two or three times a week is no longer sufficient as the guidelines recommend that amount of time most days of the week. The exercise should be strenuous enough to raise the heart rate and cause a person to sweat.
"A person who has health has many wishes," she said. "The person who does not have health has but one wish. Let's all get more healthy beginning today."