NEW BREMEN -- For the second straight year the two seeded teams won Division IV girls basketball sectional championships at New Bremen, and just like last year, those teams are the Minster Wildcats and the Marion Local Flyers.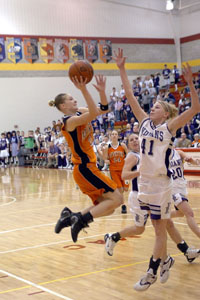 Although the two long-time rivals both advance to district play at Coldwater this week, they arrive there after taking decidedly different paths.
The Wildcats looked as if they would blow out the Fort Recovery Indians early, but ended up having to battle to the wire to pull out a 51-46 victory.
Marion, meanwhile, sprinted out to a 21-point lead after one quarter of play and cruised to a 74-40 shellacking of the Spencerville Bearcats.
Minster, now 17-4 on the year, advances to Thursday's district semifinal game against New Bremen in a 6:15 p.m. start. Marion, now 21-0, takes on Lima Perry in a game that will begin approximately 30 minutes after the conclusion of the opener.
FORT RECOVERY/MINSTER
Minster survived a physical battle in this one, as there were almost as many bodies on the floor throughout the game as there were points scored.
The Wildcats went on a serious tear in the first quarter, as they broke open a 4-4 tie with a 15-0 run that put them up 19-4 late in the quarter. The Indians battled back and drew to within eight points early in the second, but the Wildcats built their lead back up to 14 points two minutes into the second half.
That's when the tide turned and things started to get interesting.
Tiffany Gaerke scored eight of the Indians' 11 points over the final six minutes of the third quarter, while the Wildcats went ice-cold and were held scoreless. The resulting three-point deficit at the end of the period was as close as the Indians had been since the beginning of the game.
Minster took back control in the fourth period and had an eight-point lead with two minutes left, but Fort Recovery had a few more arrows in its quiver.
Gaerke scored and was fouled, and after she missed the free throw, Holly Stein grabbed the board and scored while being fouled. Stein hit her freebie to draw the Indians back within three, and after a Minster free throw, Ciera Rammel nailed a pair from the charity stripe to cut Fort Recovery's deficit to two with 29 ticks left.
The Wildcats, who had struggled mightily from the line in the second half, hit four straight from the stripe down the stretch to seal the win.
"We played a good team and it was exactly the kind of game I thought it would be," said Minster coach Nann Stechschulte. "We had some first-game jitters, and it was very physical out there. We didn't take care of the ball well and we didn't shoot free throws well, so luckily we jumped out to a good first-quarter lead. From that point on, though, we just kind of spun our wheels."
Fort Recovery coach Jeff Roessner, who saw his squad commit 23 turnovers on the night, blamed the sloppy play on inexperience.
"We have to show a little more composure out front, and our sophomore guards played like sophomores tonight," said Roessner. "They didn't want to, of course, but sometimes the pressure of the moment becomes too big. The kids really battled hard, you've got to give them credit, and they did what they could do in this game."
The Indians, who end a fine season at 16-6, were led in scoring by Gaerke and Stein, who had 19 and 14 points, respectively. Danae Spieles paced the Wildcats with 18 markers, while Karen Brackman had 11 and Amy Kremer chipped in 10.

SPENCERVILLE/MARION LOCAL
After seeing Spencerville's Jessica Vorst dominate St. Henry with 27 points and 17 rebounds in Tuesday's semifinal, the Flyers knew they had to contain the 6-2 junior in order to win their third straight sectional title.
With an arsenal of five players at least 6-foot tall at its disposal, the Flyers used their size to negate Vorst on Saturday, as she scored only eight points with just two coming in the first half.
"Kelsey (Schaefer) did a phenomenal job on Vorst, and when they did lob it in to her, we did a good job of helping," said Fortkamp. "I thought we contained her very well. We really talked about getting in their passing lanes and getting in their shorts to force turnovers, and our three out front did a nice job of that."
Marion left little doubt from the outset as to which was the better team on this night, as it sandwiched 13-0 and 10-0 runs around Spencerville's first bucket at the three-minute mark.
The Flyers led by 21 after one period and maintained that lead at the halftime break. A 15-1 spurt to start the second half gave the Flyers a 35-point lead and allowed Fortkamp to empty her bench early and give plenty of quality time to her reserve squad.
"We talked about coming out strong out of the gate," said Fortkamp. "We had five practices this week and the girls were ready to play. It was time to have a game and that showed tonight."
Maria Moeller led all scorers with 19 points, while Jenna Barhorst had 12 and Schaefer and Holly Fortkamp each chipped in 10 for the Flyers. Rachel Youngpeter's 17 points led the Bearcats while Anna Raines contributed 10.
Spencerville coach Jim Baumgartner, whose team bows out of the tournament with a 14-8 record, could only give credit to Marion after the game.
"Marion Local's such a solid team because they've got an inside game and an outside game," said Baumgartner. "We ran every kind of defense we could and we couldn't stop the bleeding. They definitely took (Vorst) away from us, and our outside shots weren't going down so it got ugly real quick."