By Gary R. Rasberry
grasberry@dailystandard.com
It took some time, but Celina senior Garrett Gray finally can shake off the questions about when he would go to the state wrestling tournament.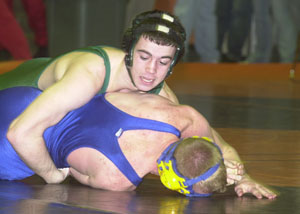 A year after being the fifth-place finisher and alternate -- but not going to the meet -- Gray gets his chance to test the mats at the Schottenstein Center in Columbus after getting the fourth and final advancement spot at the Division I district at Mentor on Saturday.
Gray becomes the 11th Celina wrestler to qualify for the state meet and the first Celina wrestler to make state since 2003 when the late Rob Eyink battled his way to a fifth-place showing in the Division I heavyweight division.
"It's a relief. All that stress is off you," said Gray about getting the automatic ticket to Columbus. "Wondering all week about what's going to happen. It's much much nicer to know that you're going and there's no way you can't go."
Gray was the last hope for Celina to get to state -- although Trent Hellwarth is the alternate should any of the top four in the 189-pound weight class from Mentor not be able to go -- when he wrestled David Bork of Toledo Central Catholic in the consolation semifinal. The winner went to Columbus while the loser went home. Gray won 3-1 in front of a vocal group of MatDogs and faithful fans that made the trip. "It was unbelievable. The team wanted it as bad as I did," said Gray. "They were going nuts. It was a great experience."
The Mentor district, known as the Meat-Grinder due to the heavy competition that includes state powerhouses like Lakewood St. Edward, Elyria and Mayfield, was very competitive. Gray thinks that will help him be ready for Columbus.
"If you can make it out of Mentor, you deserve to go," said Gray.
There's also added pressure in making a run for the top eight -- and earning a spot on the podium this season -- from his family. Garrett's father Jim was the state runner-up at 145 pounds back in 1982 for the Bulldogs.
"It's always a little bit of extra pressure when your dad went and everyone expects you to go," said Gray. "That was a little bit of added pressure, but he taught me so much. He's such a great guy. He taught me everything he knew and wanted me to go as bad as he wanted himself to go. He's really helped me out a ton."
Gray will battle a strong opponent at 145. Chad Barga of Westland won the Hillard Davidson district title and enters the Schott at 25-1.
"I don't know if I have a great chance this year with me being a four-seed versus a one-seed," said Gray. "I'll give it everything I've got. Hopefully, I'll be on the podium at the end. But you have as good a shot as anyone else, I figure."
In addition to making the top eight, Garrett's other goal could be fulfilled if he beats Barga right away. Gray is at 99 career wins, a win anywhere in the tournament puts him in select company with teammate Trent Hellwarth and 1997 state qualifier Brad Laux as the only MatDogs with 100 career wins.
"One win would be great to start off," said Gray. "They place top eight this year, so I have a good chance of being up there. If I win my first match and Barga is a tough kid."
Gray is happy to be facing off against Barga first. The other alternative might be three-time state champion Dustin Schlatter of Massillon Perry, who has won state titles at 112, 135 and 140.
"I think that (Barga) was a better draw than Dustin Schlatter would have been," said Gray with a laugh. "You know how that goes.
"If I can get that first one under my belt, I'll be okay with a good chance to place."
Considering the extended Gray family's love for wrestling -- brother Nick is a sophomore who was a strong wrestler at 130 pounds, cousin Adam graduated last year and cousin Eric Braun wrestled before being injured prior to the start of the season -- there will be a large Celina contingent rooting Garrett on.
"They have seven hotel rooms saved up," said Garrett. "None of those are for me. That's for the family and friends coming up
Cisco veteran among 103 field
Caleb Cisco of St. Marys is one of four seniors in the smallest weight class in the state. That's a good sign that the Roughrider will have a good chance of hitting the podium in the 103-pound class in Division II.
"I really hope to place this year," said Cisco, referring to finishing in the top six and earning a spot on the podium. That's been my goal coming into the season.
"When I made it to state in third place, I was on Cloud Nine."
The experience from last season, when Cisco went 1-2 in the tournament, as well as some of the competition he faced at Galion in district action, will help him as he looks to better his effort from a year ago.
"I think our district has really prepared me for state," said Cisco. "I know our district is one of the toughest in the state (in Division II)."
Cisco will be taking on freshman Johnny Papesh of Aurora (41-5) in his first match at state. Six freshman and two sophomores make up the 16-wrestler field.
None of the top six from last season in the weight are at 103 this season, having either graduated or moved up a weight class.
Cisco, at 30-2, is one of the top winners in the division. Only two other wrestlers have fewer losses this season -- Jeffrey Pelton of Bellevue is 35-1 and Dan Early of Columbus St. Francis DeSales is 34-1.