MARIA STEIN -- While the final minutes drained from the scoreboard in New Knoxville on Jan. 10, Marion Local coach Treva Fortkamp could feel a monkey slowly being hoisted from her shoulders.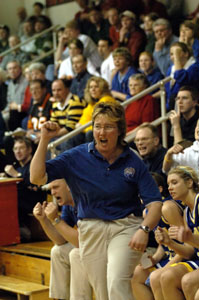 As her Lady Flyers were adding the final doses of sparkle to their perfect regular-season campaign, it actually felt more like a gorilla.
When the final score read 52-37 in favor of the Flyers, Fortkamp gazed on as her girls celebrated accomplishing two of their season-long goals.
"I was just so proud of the girls at that point, I can't really describe it," said Fortkamp, who is 117-47 in her seven years on the Marion Local sidelines. "After that game, there was a ton of pressure lifted and I really think the girls felt that too. They accomplished exactly what they wanted to and now they can go on."
Before the regular season began, Fortkamp and her team sat down as they do before the start of every season and scripted what they wanted to accomplish. First and foremost at the top of the list was "running the table" in 2004-2005. While that is difficult in any league, anywhere, when you have the likes of Minster, Fort Loramie, Del-phos St. John's, Fort Recovery, and the rest of the area's teams awaiting you on the schedule, this task reeks of impossibility.
Three months and 20 roadblocks later, the Flyers closed their season unscathed, becoming the first Marion Local squad to do so since the 1983-1984 season when Fortkamp -- then Treva Griesdorn -- was a junior in high school.
"As a player, I don't think it really hits you until a few years later. I see our team picture in the high school now and think 'Wow, we were really 20-0.' "
She added, "As a coach, I never really thought about the possibility until it got closer to the end of the season. I knew this team was capable of winning a lot of games, but I also knew there would be some close ones that could go either way -- fortunately they went our way."
Shortly after their 58-53, double-overtime thriller against Minster, Fortkamp's mind began to wander back to the mid-1980s, when she helped lead Jim Sielschott's squad to an unblemished mark all the way through the regional final.
"The Minster game reminded me a lot of what it was like playing Delphos St. John's when I was in high school," she explained. "Back then we were both state-ranked and we went there to a gym that was completely packed like it was for our game this season against Minster. We won that game, and we were all filled with a lot of emotion. I still have that game on cassette somewhere, but haven't listened to it for a long time!"
Although they played in different eras, it isn't difficult to compare and contrast the two MAC champions, both overall as well as player by player. Sielschott's approach was a little more laid back than that of Fortkamp -- stressing zone defenses rather than a lot of pressing and transition.
"We didn't have too many special plays. We just kind of did our own thing," recalled Fortkamp. "Now, I like to play man to man defense and push it up the floor when we can. We run a more motion-filled offense, and I will usually call some special plays at different times in the game."
As for individual talent in the starting lineup as well as on the bench, Fortkamp sees a lot of similarities in both squads.
"Annie Vehorn (Uhlenhake) was our guard and I compare her to Kelli Stucke -- she was gritty, could score, and always played hard. Kim Albers (Homan) was our other guard and was very similar to Katelyn Mescher. She wasn't a real big scoring threat, but she played excellent defense and did a lot of other good things on the court away from the ball."
Fortkamp continued, "We had Bev Obringer in the middle. She was 6-2 and completely dominated the game. There weren't near as many tall girls back then compared to today, but I would compare her to Jenna Barhorst. Jenna is a big scorer and can rebound too. Lisa Brunswick (Griner) and I played the forward positions. Lisa played a lot like Kelsey Schaefer does. She was a "banger" inside and an strong rebounder. She also had the ability to score on offense and that was a real feather in a team's hat. Finally, I would have to say that Maria Moeller reminds me a lot of myself. I was a pretty good ball handler and I loved to shoot. I was probably more selfish, where Maria isn't like that at all. I loved to shoot the long ball, even though we didn't have the three-point shot back then."
Fortkamp explained that the non-starters in 1984 -- Missy Winner (Woltz), Lora Holdheide (Pohl), Jamie Puthoff (Wiseman), Amy Monnin (Moeller), Mona Voskuhl (Berning), and Mary Link (Homan) -- compare favorably to her bench this season (Liesa Brand, Amber Frilling, Andrea Pohlman, Holly Fortkamp, Lauren Tuente, and Kim Evers).
"We had very solid players all the way through the lineup," she explained. "We had good combinations of guards and post players who did a wonderful job at providing the right spark when needed."
And who does Fortkamp feel would win a head-to-head match up between the two state-ranked teams?
"Boy, I think it would be close and could go either way. This year's team is much quicker than we were back then, but we had Bev and she was very, very dominant inside. Both teams were very athletic and each had a player that could take the game over," she answered diplomatically. "However, Don Martin from WKKI always tells me that it's all in the coaching, thus, I would have to take this year's team!"