By Gary R. Rasberry
grasberry@dailystandard.com
In the span of less than 10 years, the Coldwater wrestling team went from not having enough kids to fill all the weight classes, to sending three wrestlers to state.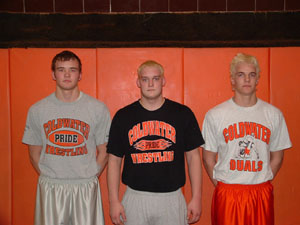 The largest contingent of Cavaliers ever to make the state wrestling tournament makes its way to the Schottenstein Center on Thursday for the 68th annual meet.
The streak of at least one Cavalier going to state is now at three seasons. Aaron Alig went in 2003 and Craig Homan -- who qualified for the district meet this season but was unable to take part due to a concussion -- went last season.
While Homan will be watching from the sidelines -- and possibly taking one of the coach's chairs at matside -- three of the heavier weights that have dominated this season will go.
Kyle Oswalt, Brian Uhlenhake and Kyle Uhlenhake, all of whom have 38 or more wins this season, make their first-ever trip to state and got an early start at practice. The trio and coach Chuck Alig were on the mats Monday morning at 8 a.m. to get ready. "I think a big part of the succes is from starting the junior high program several years ago," said Alig, who went to state as a Cavalier back in his high school days. "Ted Kunk and Chip Otten have done a great job.
"It's great to see this group go. They have worked hard all season. It's going to be a fun time at state," continued Alig.
Oswalt, who surpassed Aaron Alig as the winningest wrestler in school history and currently is at 125-31 on his career, will go in as the highest seed of the trio after finishing second at the 215-pound weight class at the Xenia District. Oswalt will face Ben Bruney of New Albany, who took third at Watkins Memorial and has a 45-9 record on the year.
"I'm real excited," said Oswalt. "I've gone the past couple of years to watch the wrestlers that have been there. I've always wanted to wrestle there. It'll be a great experience. It's real neat to be able to go with some of my teammates."
Oswalt especially is thankful to the parents and fans, who came out in good numbers to catch the Cavaliers this season.
"It's amazing compared from last year to this year how many people get into it," said Oswalt. "The fans are just great. The parents have done so much this year. They made signs all over town for us. They really went out on a limb for us. We couldn't have done it without the coaches. They were super this year."
Brian Uhlenhake, who enters with a 44-5 record at 171, will face Justin Tripp of Cuyahoga Valley Christian Academy (34-5) in his first match.
"It's a great accomplishment," said Brian Uhlenhake about qualifying. "It's been one of my goals since I started wrestling."
Kyle Uhlenhake (38-11 at 189 pounds) faces one of the biggest challenges for the Cavaliers, facing Sandusky St. Mary star Spencer Dye, who won the 171-pound title last season and was runner-up at that weight in 2003. Dye enters the tournament perfect at 33-0.
"We're making history, it's good to be part of it," said Kyle Uhlenhake. "It was a weight off my shoulders when I knew I was going. The whole weekend I was so tense, knowing the last match could be my last one I ever wrestle."
The trio, which compete in three of the top four weight classes, usually work together in practice and have been the ones to go to when it came time to get points during the season for the Cavaliers.
"We all practice hard together," said Brian Uhlenhake. "We've worked to make each other better."
Kyle Uhlenhake, for one, isn't nervous about going to the atmosphere of the Schottenstein Center, which will have 10 mats of action going at once on Thursday.
"I'm more relaxed this week knowing that I have made it this far," said Kyle Uhlenhake. "I'm a lot more relieved this week than I was last weekend."
The goal of the Coldwater team is simple: No other Cavalier wrestler has won a match at state. The first win is a goal for all three Cavalier state qualifiers.
"I want to win one match," said Brian Uhlenhake. "No one has done that before. The three of us want to get a win."
Tiger pair face big obstacles
Versailles, after sending three individual wrestlers last season, will bring two this year, including a returnee from last season.
Mark Keiser was the last Tiger to bow out last season, losing in the consolation quarterfinals last season. Keiser (28-8) returns to the 215-pound division and faces Grandview Heights' Chad Davis (27-4). If all goes well, Kesier could get a chance to face fellow MACster Oswalt, since the brackets could set up for a meeting either Thursday night should both lose, or during Friday's action.
Bernholt, Versailles' all-time winner in going 33-3 this season, faces a wrestler who is familiar to the football fans at Coldwater and Versailles in defending state champion Jamison Moss of Delta, who was a key player on the last two Panther football playoff teams. Moss has been dominant at state, placing second at 135 as a sophomore before moving up in weight and winning the 145 title last season. Moss is 41-2 this season after winning the district title at Fostoria.