By Shelley Grieshop
sgrieshop@dailystandard.com
ST. HENRY -- A message from the pope to "use what you have" led Tony Melendez to spread his message of hope to the world, one song at a time.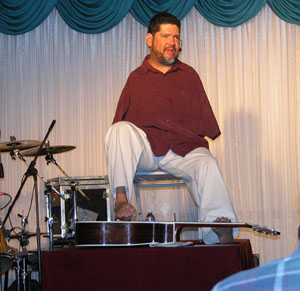 The internationally-known Christian musician and composer, who plays electric guitar with his feet, performed Wednesday evening to a standing room only crowd at Romer's Entertainment Facility in St. Henry.
"I'll tell you, it's a little cold for my toes up here," he said as he swiftly slid out of his sandals and made his way atop a raised platform and chair on stage where his guitar awaited beneath his feet.
Melendez was born in Nicaragua in 1962, at a time when pregnant mothers were given the drug thalidomide to reduce morning sickness. The drug, outlawed in the United States soon after, caused many children like Melendez to be born with multiple deformities.
Raised in the Los Angeles, Calif., area, he quickly learned to adapt without arms and a clubbed left foot that was eventually corrected with surgery. But it's not only his handicap that grabs his audiences' attention. When the 43-year-old begins to play, his dynamic personality and sincerity easily wins the hearts of his audience, just as it did the more than 600 people of all ages who arrived for the concert in St. Henry.
"I hope the kids I speak to get three things from me," Melendez told The Daily Standard following his performance. "I pray they see how I love God, how important family is and always to carry self-esteem."
Melendez has performed before former President George Bush and the pope, and has been a guest on countless talk shows. His message Wednesday night, particularly focused on the sea of children present, was "Don't say you can't do it, say try."
Melendez, a five-time contemporary recording artist, and his Toe Jam band are Branson, Mo., residents. Drummer Timothy Pope formerly played with other great musicians, including Ray Charles, and guitarist Mitch Kerisey has his own recording studio. Each wowed the crowd with a solo act and shared his own deep faith in the Lord.
Melendez played a variety of older tunes including "We are the World," "Jeremiah was a Bullfrog" and "La Bamba," a song he said reminds him of his deceased father.
"Dad died at 42," he began, as he explained what life was like growing up with an alcoholic father. "He was a heavy, heavy alcoholic, and I would love to have him here with me now ... to see Ohio."
His wife, Lynn, a Cleveland native, and the couple's two children accompanied Melendez on the trip to Mercer County.
On a lighter note, Melendez played a few silly songs, urging the audience to get up and hug someone, untie a neighbor's shoe and pull someone's ear, to which the crowd immediately obliged.
"Have no mercy," he said as laughter roared through the building.
In his deep voice, Melendez also sang "The Lord's Prayer" and "Hail Mary." He later talked to the teens in the audience who were spending their traditional religious education night with him.
"Love your parents," he told them, adding how important it is to love themselves, too.
Melendez' brother, Jose, the administrator for the band, spoke about his brother's life growing up. He recalled Tony being chosen in 1987 to perform for Pope John Paul II in Los Angeles.
"The pope climbed off stage later and hugged and kissed Tony and told him to continue to give hope to the world," Jose Melendez said.
The next day, crews from ABC, NBC and CBS were camped out in the family's front yard, waiting for Tony Melendez to wake up and be interviewed, his brother said with a chuckle.
"Our family was never the same after that," he said.
Jose Melendez said he realizes Toe Jam band, together now for 18 years, was called by God for a purpose. For those who doubt the Lord's power, he added, "If you're looking for a miracle today, there's a guy playing guitar over there with his toes."
Laughing, Jose Melendez said he begged his brother to "Please don't do that," during his first attempts to play the guitar as a youngster. "Thank God he didn't listen," he added.
Afterward, while signing CDs and cassettes of his music including his latest album "Hands in Heaven," Melendez talked about getting kids to listen to his message.
"My hope is that our music will draw them and maybe they'll feel it or sense the love God has for them no matter who or where they are," he said.