By Gary R. Rasberry
grasberry@dailystandard.com
For the six Celina swimmers and divers going to the state swimming and diving championships, it's the hope that a large contingent will mean success.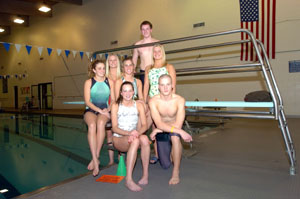 For Jaz Craft, the lone St. Marys representative going to state, it's another one-against-the world season.
The seven Grand Lake area representatives for the state tournament, which starts today with the diving competition, is a mix of veteran state qualifiers to go along with excited rookies.
The WaterDogs send their largest contingent in program history and for the first time will have a relay representing the school as the girls' 200-yard medley relay will take part in the competition.
The relay corps of Lindsey Kuhn, Amanda Mallory, Larissa LaRue and Kylie Samples had to play the waiting game on Sunday after not finishing high enough to gain an automatic bid to Canton. It was a scene that played out the year before when the exact same group broke the school record last season, but was one of the last teams cut on time to qualify last season. This year, the team's time of 1:55.83 set another school record, but again did not get them the automatic advance. Once again on Sunday, the team checked Web sites and waited for phone calls to see if they could finally go to state this season.
"We were the first cut from state last year and this year we really wanted it bad," said Samples, who swims the freestyle leg of the relay. "We dropped three seconds and broke our school record. It was just a great day.
"It was a tough wait. On the Tuesday before we went to B.G., Mr. May (Celina head coach Matt May) told us that if went (finished) in 1:55 our shot would be pretty good. We went to district, got the 1:55 and were confident."
Finally on Sunday, the news came: Celina made it in with the 21st best time in the state, making it in as one of the 24 qualifying teams.
"Everybody was so excited," said Samples, who goes second during the relay in doing the breaststroke. "But I don't think the real excitement has set in yet."
"This is the second year we've been in the same relay," said LaRue. "We're real close friends. I'm really excited about going to state."
Of the quartet, Amanda Mallory is the veteran of going to the Branin Natatorium. The senior qualified in the 50 freestyle last year for Celina. Now she's glad that the relay gets its chance.
"I'm really excited to get the relay here," said Amanda Mallory, who works the butterfly leg of the relay. "Last year it was just me and Kelly (Mallory, Amanda's cousin) going (for swimming, diver Sara Knapke also qualified). There wasn't a team atmosphere.
"Actually, I'm not disappointed that I didn't make it individually. My whole goal this year is to get a relay down there and just be a team," continued Mallory.
The first-ever relay to go to state wearing Celina colors will be a big honor.
"To actually have a team go down to represent Celina is great," said Amanda. "Our coaches (May and assistant coach Jane Fleck) have done an awesome job this year. I can't really express how it feels to go."
For Kuhn, the chance to go with the relay is more exciting than qualifying in an individual event. Kuhn will also take part in the 100 backstroke this week after recording a high non-automatic qualifying time at the Bowling Green district.
"It feels great. I wasn't expecting it," said Kuhn, who leads off the relay with the backstroke. "I found out about the backstroke (qualifying) then found out about the relay. I was kind of nervous. I didn't want to go by myself. I'm glad all four of us are going."
Kelly looking to hit the podium
There's no need to judge how good Kelly Mallory is. With just one boys division in the state, Mallory is already one of the best 24 swimmers in the state in both the 50 and 100 freestyle.
Mallory is no stranger to the Branin Natatorium, having qualified last year after winning a district title and earning the automatic bid to state. Last year, Mallory was 13th in the 50 freestyle to earn All-Ohio honors.
The experience of going last year will be a plus according to the senior.
"Now that I know how the meet is run, I won't have as much stress on me," said Mallory. "Just hopefully, I hope to go out there and do my best.
"They do it a whole lot differently (running the meet) than what they do for the district, sectional and WBL meets. It helps a lot (to have gone last season)."
This year, Mallory swam well at the districts but was unable to get an automatic ticket. Sunday was spent checking times and waiting for the phone to confirm a return engagement and a 3 1/2 hour road trip to the other side of the state.
"I was stressed out," said Kelly about his wait-and-see time. "Amanda's mom was up all night figuring out all through the districts to see if I got the chance. I waited until Sunday and found out. I lost all of that stress."
Mallory's goal is simple: do his best, better his time and shoot for the podium, which means a top-eight finish.
"I would just like to go out there and do my best," said Kelly. "I want to see if I can go faster than I did last year and hopefully get on the podium."
Eddie finally gets his chance
Sophomore diver Eddie Craft was so close last year. As a freshman, Craft finished fifth at the districts, missing the trip -- there's no at-large qualifiers in diving, only the top four from each district move on -- by one place.
This year, Craft scored 394.15 points in the one-meter diving competition, earning third place out of 32 divers and safely punching his ticket for Canton.
"I'm just really excited about going after just missing last year," said Craft. "It feels really good."
After missing out by the slimmest of margins, Craft worked hard in the offseason.
"I went to Fort Wayne to practice with a club team," said Eddie. "We've been practicing a lot. I improved a lot on my approaches. The dives have been a lot easier now."
Craft worked hard to get ready for this year's district and really picked up the pace as the competition went on.
"I felt pretty good," said Eddie. "It was some of the best diving I've done all year."
Craft gained a lot of experience over the season, thanks to the help of diving coach Dave Koesters, who knows how to send divers to state with past divers like Michael Grapner and Sara Knapke having made the trip in the recent past.
"I think he's getting excited too," said Craft with a laugh. "He just tries to help out on the dives."
Jaz knows still plenty of pressure ahead
Being the lone representative for her school is nothing new for sophomore Jasmine (Jaz) Craft. Last year, as a freshman, Craft went to the state meet in the 100 freestyle and the 100 breaststroke, earning All-Ohio honors in the breaststroke by placing 11th.
This year, Craft goes in just the breaststroke, earning the at-large bid as the 21st fastest time.
"There was a lot of crying," said Jaz with a laugh when asked about the wait until she found out about qualifying.
She can relate with another lone 'Rider at a state competition, with Caleb Cisco being the lone St. Marys wrestler at the state meet this week.
"There's only one wrestler going," said Craft. "I would like to have had a teammate go with me. It would be more fun."
Even though Craft qualified for just one event this season, the pressure of trying to qualify for the A-final or the B-final -- which means finishing in the top 16 in qualifying -- is not diminished.
"Pressure is never off," said Craft. "Last year I got second at districts and this year I was fifth. Maybe next year I'll get a lower finish."