By Gary R. Rasberry
grasberry@dailystandard.com
COLUMBUS -- The record for the Coldwater wrestling after Thursday's state wrestling tournament action stood at 2-3 with one of the three wrestlers being eliminated from the tournament.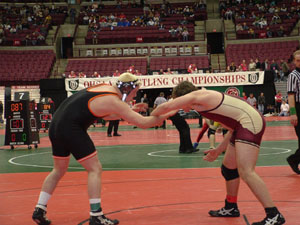 But it was that first win that was the story for the Coldwater team.
In the history of the Coldwater wrestling program, no Coldwater wrestler ever posted a victory at the state level.
Not Craig Homan, not Aaron Alig. Not even Chuck Alig or Rob Schmidt, the current head coach and assistant coach for the Cavaliers, scored a win when they competed at the state tournament.
While Kyle Oswalt's name will already stand as one of the best grapplers in school history, he can add his name to another plaque in the team room. With his 5-3 overtime win over Ben Bruney of New Albany in the first round of Thursday's Division III 215-pound action at the Schottenstein Center, Oswalt picked up that first win for the program.
Later in the consolation round, Brian Uhlenhake picked up win number two with a decision over Jacob Zerkle of Shenandoah, giving Coldwater two wrestlers to move on to today's action.
"It was amazing," said a very tired but happy Oswalt after getting his hand raised for victory. "I didn't know how it would end up until the end."
Oswalt and Bruney were even through the first three periods, with all the points coming either from escapes or stalling violations, setting up the one-minute overtime.
The pair circled a bit with Oswalt trying to get an early shoot but got swept out of bounds. With less than 40 seconds left, Oswalt found the opening, putting Bruney down and spinning to get behind, getting the takedown to make history.
"I had to do something," said Oswalt. "I didn't want to go into double (overtime). I went in, took a chance and got it.
"It's so bueatiful. It's such a great accomplishment. I'm pretty proud of myself."
Oswalt wrestled this morning at 10 a.m. in the championship
quarterfinals against Wade VanSickle of Liberty Center, who moved on Thursday with a pin in three minutes over Spencer Hershey of West Salem Northwestern.
Oswalt's teammates, Brian Uhlenhake and Kyle Uhlenhake, had different starts and different finishes.
Kyle Uhlenhake, at 189 pounds, had the tough task of facing a state champion in his first match as he faced last year's 171 champ Spencer Dye of Sandusky St. Mary.
Dye put Kyle on his back right away and scored five quick points with the takedown and near-fall. Kyle was able to survive the period and did not have any worries in the second. It took just eight seconds, however, in the third for Dye to finally get the pin of Kyle.
Kyle tried to stay alive in his consolation-round match against
Caldwell's Corey Archer, but Archer got the fast start and ended the Cavalier senior's career with a 5-1 loss. Kyle Uhlenhake ends a fine season with a 38-13 record.
Brian had a strong challenge in his first 171-pound match against Justin Tripp of Cuyahoga Valley Christian Academy. Tripp got out to a 7-0 lead before Brian was able to make it more respectable before the match ended with Tripp winning, 7-4.
Brian rebounded and gave Coldwater its second-ever win at
state as Uhlenhake won 11-4 over Josh Zerkle of Shenadoah to stay alive in the tournament.
"It was pretty tough," said Brian Uhlenhake. "I was a little nervous for awhile, but it feels great to make the second day. I made my goal."
Alig, who wrestled at state in the 1980s for the Cavaliers, is proud and happy to be able to be at matside for this group's success.
"It's awesome," said Alig. "(The wins) couldn't have come to two better kids. Great kids to be around. We had a good attitude today. We wanted to win. Their goal is to place."