By From staff reports
newsroom@dailystandard.com
Craft's 11-dive total of 344.75 earned him 16th-place overall and an All-Ohio selection in making the finals after the eight-dive cut.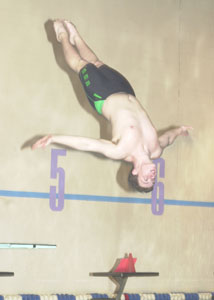 "I think I did pretty good," said Craft. "I beat a couple that I faced at the district meet."
Craft said he was doing well after the first rotation of five dives.
On the second, though, Craft missed on several dives.
"I did my back twister, my reverse back and my reverse 11/2 and missed on a couple," said Craft. "I was worried that I wasn't going to make the finals, but a couple of other divers missed on their dives." When the second round of dives concluded, Craft was solidly in the top 16, making the cut into the final three dives of the finals. Craft worked to try and make a top-eight run to make the podium, but was unable to make a run.
Still, with an All-Ohio award and points in the team standings, Craft was happy.
"I did a little better than I expected," said Craft. "I felt good."
Celina diving coach Dave Koesters was happy as well.
"He did a good job today," said Koesters. "He had a solid performance."
The Celina girls' 200-yard medley relay and Celina senior Kelly Mallory's 50-yard freestyle qualifying races were this morning. If they qualified, the finals will take place this evening.
On Saturday, Mallory will compete in the 100 freestyle while teammate Lindsey Kuhn tries to qualify in the 100 backstroke. St. Marys' Jaz Craft will be trying to qualify in the 100 breaststroke.
Phone: (419)586-2371, Fax: (419)586-6271
All content copyright 2005
The Standard Printing Company
P.O. Box 140, Celina, OH 45822