By Gary R. Rasberry
grasberry@dailystandard.com
COLUMBUS -- Considering his last two days, you would have to wonder if there was a little bit of magic in the blood of Kyle Oswalt.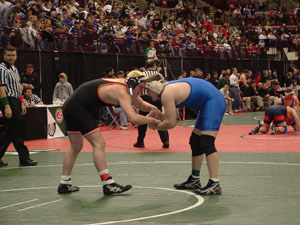 The Coldwater senior, who already set the school record for career wins this season, has three wins at the Division III State Wrestling Tournament, including the first ever in program history.
The magic has come in overtime, where Oswalt has won all of his matches.
It might not be too hard to call him a wizard, considering his last name is pronounced OZ-walt.
Now there's a just a couple of more tricks he can pull to earn as high as a third-place finish in the 215-pound division. Regardless of what he does, he'll become the first Cavalier to earn a top-eight podium spot on Saturday. After winning his first match on Tuesday in overtime and then losing his opener on Friday, Oswalt needed just one win to guarantee a top-eight finish.
The only explanation that Oswalt could give was practice, practice and practice.
"I've been working pretty hard," said Oswalt. "It just seems I've always been able to get the last shot off."
Coldwater coach Chuck Alig chalks it up to a little pre-state advice.
"We (Alig and assistant coach Rob Schmidt) tell him every match he has to prepare to go 6 1/2 minutes (regulation matches are six minutes, although in tournament the consolation matches are five minutes)," said Alig, "You have to prepare to go to overtime. All of them are going to be close. I think he just plans to go that way."
In his first match on Friday, Oswalt faced Wade VanSickle of Liberty Center -- who entered the bout 45-0. Oswalt fought off an early takedown, but finally succumbed to a pin at the 2:45 mark to drop down to the consolation bracket.
"I was doing all right until I had to take bottom (to start the second period)," said Oswalt. "I threw a leg and this guy is the 'King of Legs.' From then on, I didn't stand a chance."
Needing a win to stay alive in the tournament, Oswalt faced Miami East's Brad Laughman. Each wrestler scored a takedown and escape in the first five minutes to set up an overtime. As time wound down in the 60-second session, Oswalt shot and took Laughman down, then spun to get behind for the referee
to signal two points to give Oswalt the 5-3 win and a top-eight finish.
"It was awesome," said Oswalt. "I knew I could beat him. I beat him at districts. I just shot at him all period and couldn't quite get it. It came down to overtime. I shot in and got around him. It feels great to be able to get on the podium."
Before Oswalt could get a chance to make that climb, which takes place this evening after the first-place matches, Oswalt had to wrestle again on Friday night in a match that would allow him to move up the podium with a win. Oswalt took on Troy Dillinger of Sandusky St. Mary in another consolation match.
And, as one would guess, five minutes would not be enough as both wrestlers posted escapes in regulation and were tied 1-1 going into the extra session.
Time again was winding down when Dillinger, knowing Oswalt has the choice if the match went to double-overtime, tried to shoot in. Oswalt sniffed out the move and blocked it. Before the clock expired, Oswalt wrapped around again to get the 3-1 win and put him in a shot for the third-place match on Saturday.
"I'm just glad that I didn't have to go into it (double overtime)," said Oswalt. "I'm just going to work my hardest and do my best."
Phone: (419)586-2371, Fax: (419)586-6271
All content copyright 2005
The Standard Printing Company
P.O. Box 140, Celina, OH 45822