By Gary R. Rasberry
grasberry@dailystandard.com
COLUMBUS -- Caleb Cisco and Dave Bernholt had to overcome injuries to get their chance to get on the podium.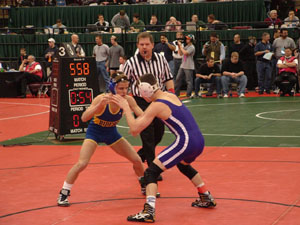 Unfortunately, the momentum that Garrett Gray had on Thursday came crashing down on Friday.
St. Marys' Cisco and Versailles' Bernholt picked up two wins on Friday to earn a shot at a possible third place at the state wrestling tournament held at the Schottenstein Center in Columbus.
If the two wrestlers win twice today, they'll finish third in their
respective divisions and weight classes. The pair are guarenteed at least a sixth-place finish. Gray, the lone Celina representative at state, lost his opener on Friday to Anthony Gigiliotti of Austintown Fitch 12-9 in a close battle. In the consolation second round, Marysville's Zach Andrews ended Gray's season with a 12-1 major-decision win.
Gray, who didn't come out for interviews after his losses, finishes his career with 100 career wins for the MatDogs.
Cisco's day started out painful as he lost his Friday opener in the Division II 103-pound bracket after getting hurt in a pin loss to Columbus DeSales' Dan Early in their championship quarterfinal.
Early, who entered the state tournament at 35-1, got an early takedown on Cisco, who showed signs of pain. When Eraly needed a break to treat a bloody nose, Cisco went over to his coaches to complain about pain in his shoulder. The coaches
tried to massage the shoulder while the mat was being cleaned up and put CIsco out there. Cisco tried to battle through the pain, but Early got the pin in 3:05.
"I strained my rotator cuff last week," said Cisco. "It popped out of the socket. The doctor down here said it was strained and if it was him, he wouldn't wrestle. He left it up to me, so I was wrestling."
Cisco came back and earned a 9-2 win over Kyle Quickle of Hillsboro.
"I was going out (for the second match)," said Cisco. "I had to pick myself back up and wrestle like I know I can."
With a top-eight finish ensured, Cisco looked to move up the podium when he took on Ravenna's Scott Meyer for a shot at fifth place. Cisco suffered a takedown early, but scored the last eight points to come away with an 8-2 win.
Bernholt, wrestling with torn knee cartilage, almost had his season ended when his knee locked up in the second period and needed several minutes before insisting to continue.
Bernholt got through the period and was on the top position to start the third. Bernholt was able to get two back points on Garaway's Greg Miller to get the win and earn a spot in the top eight.
"It locked up on me," said Bernholt. "It was strained so much it could hardly support my weight. They told me it was my choice (to continue). It's my senior year, I don't have anything to lose. I have to go out and try my best.
"I was glad when he chose down because I knew it would be my best chance to do something."
Bernholt came back Friday night and needed overtime to beat Fostoria St. Wendelin's Dustin Nedolast 3-1.
"Hopefully, I can improve from my sophomore year when I placed fifth," said Bernholt. "My goal every year is to keep improving. Now at least I can equal what I did in my sophomore year."
For Coldwater's Brian Uhlenhake and Versailles Mark Keiser, the day ended much too early. Uhlenhake ended his season in the consolation second round with a 4-3 loss to Jackson-Milton's Adam Keck. Kesier also lost 4-3, falling to Mitch Tenney of Norwayne.
The consolation semifinals for all three divisions starts this morning at 10 a.m., followed by the seventh, fifth and third-place matches. The first-place matches start this evening at 5:50 p.m. after the Parade of Champions.
Phone: (419)586-2371, Fax: (419)586-6271
All content copyright 2005
The Standard Printing Company
P.O. Box 140, Celina, OH 45822