By Gary R. Rasberry
grasberry@dailystandard.com
Oswalt ends OT streak but still hits the podium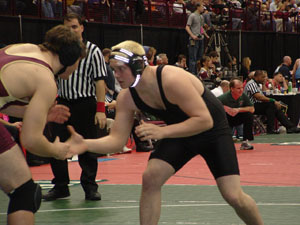 COLUMBUS -- When things are going well, it's wise to stick with what works.
And for Kyle Oswalt, that's being tied after three periods and forcing overtime.
The Coldwater senior won all three of his matches at the Division III state wrestling in the extra session, catapulting him to a spot on the state wrestling podium.
Saturday afternoon, with fifth place on the line, Oswalt decided to break the overtime streak and win one in regulation. Oswalt wrapped up the best-ever showing by a Coldwater wrestler with a 3-2 win in a rematch against his first opponent in the tournament, Ben Bruney of New Albany, in a 215-pound matchup.
Oswalt's season ended with a 42-7 record and puts his career record at 129-33, the most wins by a Coldwater grappler.
Oswalt's first meeting ended in a 5-3 overtime decision, the first win by a Cavalier at the state tourney. Usually it's the rematch that is tougher, but Oswalt thought different.
"I think the first time I had to face him was a little tougher," said Oswalt.
The two traded takedowns in the first two periods to force a 2-all tie heading into the third period, keeping the chance for overtime fresh in mind. Even coach Chuck Alig had a little smile seeing the score was tied after three minutes.
Oswalt chose down for the third period and tried to get out of Bruney's grip. Finally with just over a minute left in OT, Oswalt broke free for the point. Oswalt kept trying to attack to prevent a warning for stalling. Eventually the warning came and Oswalt got more aggressive to avoid giving Bruney a point for a violation.
Bruney was unable to get Oswalt down for points before the match ended, allowing the Coldwater senior to take a step up on the podium.
"I got a takedown early. I knew that would help me there," said Oswalt. "I needed one more (point) in the third period. I chose down and got up. It almost went into overtime. I almost got a stalling point. I shot in on him with 10 seconds and held it for awhile, so I didn't get called for stalling.
"I was definitely concerned about keeping up and being active. If I (got the stalling call), I knew it would go into overtime."
Oswalt got his chance Saturday night to make the podium walk with the other seven placers at state.
Saturday afternoon after his fifth-place match, the notion had already sunk in.
"It was my goal to get here. I never thought I would get this far," said Oswalt. "It's just a great feeling. I'm proud of myself."
To breakdown how successful his season was, one would have to look at the people he lost to. Three of his losses were from Ayersville's Nick Girlie -- who beat Oswalt 12-0 in the first match of the day on Saturday and went on to place third -- with another three coming from Bluffton's Nick Nowlan. The seventh loss came from Liberty Center's Wade VanSickle on Friday.
VanSickle and Nowlan battled for the state title with VanSickle finishing the season 48-0 and with the title.
With all your losses coming from three of the top four wrestlers in the entire division, something has to be said about Oswalt.
"It's definitely a great feeling," said Oswalt. "I had a great year."
Alig couldn't hide his pride and good feelings about getting the chance to see a Coldwater wrestler on the podium.
"It's neat," said Alig. "It couldn't have happened to a better kid. All three we brought down (Brian Uhlenhake and Kyle Uhlenhake are the others) are good kids. Oz deserves it.
"My emotion is that shows we (the Coldwater program) belongs here (at state). Hopefully, in the future, we're here year in and year out," concluded Alig.

Cisco battles shoulder pain to finish in fifth
By GARY R. RASBERRY
grasberry@dailystandard.com

COLUMBUS -- There was no way that Caleb Cisco was leaving Columbus without having a man in a striped shirt raise his hand and call him a winner.
Not even pain in his rotator cuff would keep him away.
The St. Marys 103-pound senior got his wish after placing fifth in the Division II tournament on Saturday, beating Zac Thomusseit, of Graham, 10-3.
Cisco is the first Roughrider since the late 1980s to place at the state meet and finishes his season -- and a fine career -- at 34-4.
Cisco overcame more pain to his strained rotator cuff at the start of his Saturday. Cisco started out against Dennis Roche of Hunting Valley University School to see who went on to try for third place.
Cisco kept moving his arm during breaks in the action on several occasions and it appeared that it hampered his work. Roche got six early points and held on for the 6-2 win to put Cisco in the fifth-place match.
"I just wasn't ready," said Cisco. "(The shoulder) was sore when I woke up this morning. It was excruciating pain. I went out there and basically wrestled one-armed."
"It changed his style of wrestling," St. Marys coach Larry Gruber said about Cisco's injury. "At this time, you go out with what you're dealt with. If it hurts, you just have to work your way through the pain.
"For him, it was no tomorrow. He came in (to the tournament) like this (the shoulder injury). It was like 'Okay, focus your mind. Your moves are still going to work, it'll just hurt to do them. If you can work through it, you'll be okay."
Just as he did on Friday when pain flared up, Cisco refused to concede and went into his fifth-place match with a vengeance, getting up 6-0 early with a takedown and backpoints. Cisco did allow a reversal in the second period but gave up just a stall point with seconds remaining in the match to get his hand raised for the final time in high school.
Cisco didn't care that the wrestler was from Graham, year in and year out one of the best teams in the state as well as the holder of five straight team titles, he was just glad that he won.
"Wherever they're from, it doesn't really matter," said Cisco. "As long as I end up winning."
Cisco had to go through several extra matches to get to the placing level. having to wrestle three times on Friday and twice on Saturday. The task was difficult but very gratifying for the Roughrider.
"I kept on telling myself 'It's my last year, you've got to do it now or never.'" said Cisco. "My dad (Scott) kept me going. He was very helpful. The coaches always keep me going. They're always a big help."

Knee injury not about to keep Bernholt down
By GARY R. RASBERRY
grasberry@dailystandard.com

COLUMBUS -- Pain will always be a part of wrestling.
Getting thrown down on a rubber mat, getting arms and legs tied in different and sometimes unusual directions are part of the sport.
For Dave Bernholt, it was just part of the climb to get a spot on the podium.
Wrestling with torn knee cartilage and having his knee lock up during a match for the second day in a row, Bernholt gutted his way through the pain and earned fifth place in the Division III 145-pound class on Saturday with a 4-3 win over Nick Boso of Amanda-Clearcreek at the 68th State Wrestling Tournament in Columbus.
Bernholt finished his season with a solid 37-5 record and bettered his effort from his sophomore season when he placed sixth at 112 pounds.
The Versailles senior went to the fifth-place match after losing in the consolation semifinal to Batavia's Jacob Ison, 8-2.
In the match against Boso, early on it looked like Bernholt's knee was flaring up again. At one point in the second quarter when a stalemate was called, Bernholt needed several seconds to relax his knee. When he got up, he walked gingerly on the knee before getting ready to go.
"I was trying my best to get it to unlock without using any injury time (the 90 seconds allotted for problems other than blood) because I didn't want to get into that and allow (Boso) a rest break," said Bernholt. "That's one of the things I use the most, is my endurance."
Bernholt recovered and trailed 2-0 going into the final period. Bernholt had choice and went for the up spot, knowing that it helped on Friday when his knee locked up. Bernholt used his upper body strength to get a pair of two-point near falls to get the lead, then he let Boso up, giving up a point, and kept up the attack and held off any takedown attempts up until the end of the match.
"With my build, I am bigger in the upper body," said Bernholt. "With that knee being bad like it is, then I really need to use my strength up top. If I pick top (position), that allows me to use the upper body more."
Throughout the last couple of days, Bernholt reasoned that with this being his senior season, there was nothing left to lose if he kept on wrestling with the injury. That remained his sentiment on Saturday.
"I didn't want to have any regrets. It was my senior year," said Bernholt. "Whatever happens, happens. I was just going to push myself."
Veteran Versailles coach Bill Roll was proud his senior persevered.
"Dave just really sucked it up (fought through the pain)," said Roll. "When he got hurt (Friday) afternoon and took all our injury time -- even having the doctor unlock it -- we really thought seriously about defaulting it. I decided whatever Dave wanted to do, we'll do. We were fortunate to win that match."