By Janie Southard
jsouthard@dailystandard.com
Celina sixth-grader Katrina Fuson quit smoking last year but not before she got in trouble at school for having cigarettes in her purse. But, now she thinks getting caught was her first step in quitting.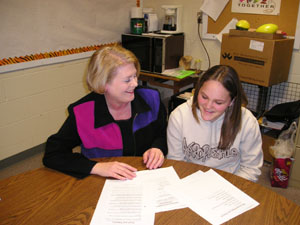 One morning last fall, after smoking outside the middle school building, Katrina, 13, came in late smelling of tobacco smoke. That's when she quickly found herself in Principal Ann Esselstein's office.
"I wasn't having very good thoughts at that point, and I really wasn't sure why I was called to the office. But then Mrs. Esselstein had that look," Katrina told The Daily Standard last week referring to that frosty, eyebrows-up look educators can do so effectively.
Katrina, who began smoking at age 11 while hanging out with some older, "cool" kids, was one of the first to go through Celina's new Tobacco Education Group (TEG), which began this school year.
Funded through a Tobacco Free Coalition grant to Mercer and Paulding counties and then filtered through Paulding County Hospital and Gateway Outreach Center in Celina, the program is mandatory for first time offenders in the Celina school district caught smoking or with tobacco paraphernalia/products. The first timer also must pay $20 toward the program and spend three days at the Mercer County Alternative School. If the student fails to show up for any part of the eight-hour TEG program, which is held in two four-hour sessions on consecutive Saturday mornings, the student will get three days of out-of-school suspension. Plus, school officials will file a complaint with the Mercer County Juvenile Court.
Celina district officials are as serious as lung disease about this new smoking policy that is finally uniform throughout the district.
This new unified tobacco policy has streamlined the district's approach for all buildings, according to Matt Miller, director of student services. Prior to this each building was at liberty to establish its own policy.
"One side is the punitive and names the consequences when a student is caught. The other, the educational side, is pointing out the effects of smoking and what we can do to help our students at least cut down and hopefully no longer use tobacco," Miller said.
Paulette Strine, a social worker with Gateway, and Celina district nurse Kim Smith are trained to conduct the Saturday program, which they define as a support group for young tobacco addicts.
"The program is directed at kids who got caught but don't necessarily want to quit smoking. Our goal is to make them want to quit," Smith said.
Katrina was surprised that TEG was so supportive and not personally critical.
"Diane (Hart of St. Henry, one of the program counselors) said she used to smoke so I felt she knew what I was going through," Katrina said.
Mercer County youth are significantly above the national average for use of both smoking and smokeless tobacco. A study shows 43 percent of Mercer County's 12th-graders are smoking, compared to 26.7 percent nationally, according to research from the Search Institute, Minneapolis, Minn., and National Institute on Drug Abuse, Bethesda, Md.
"Although students see a lot of people smoking every day, they need to realize not everyone's doing it, which is certainly represented in the national averages," Strine said.
She speculated the local averages may be high because, with so much smoking going on around them, young people interpret it as the norm.
"And, kids, of course, want to do whatever is the norm or what they think is cool," said Strine, a social worker.
Thus, the problem of students using tobacco is not a small one throughout the Celina system as well as other Mercer and Auglaize county schools.
"We're seeing more and more students who can't make it through the school day without a cigarette. And it cuts straight across all classes of kids," Smith said.
According to Strine, it doesn't take much to become addicted to nicotine, which research says is 30 percent more addictive than heroin.
"One to three cigarettes is all it takes to become addicted," she said.
Although Katrina, a former half-pack-a-day smoker, was sufficiently motivated by TEG (an educational program) to quit, it is the Tobacco Awareness Program (TAP) that is actually designed to provide the tools to quit.
Although that program is not up and running in Celina schools, Strine and Smith have been trained and could offer it if they would get enough referrals from schools.
"If school-age kids want help to quit smoking, they can see their guidance counselor for a referral to TAP," Smith said.
Katrina still hangs out with the same older kids, but said she doesn't feel any pressure from them about her decision to quit smoking.
"There's not much difference. It's just that they still smoke, and I don't," she said.