By Ryan Hines
rhines@dailystandard.com
WAPAKONETA -- A pair of Midwest Athletic Conference teams will be playing for the Division IV district title at Wapakoneta High School on Friday night.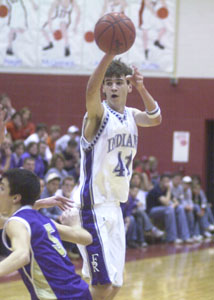 Minster and Fort Recovery were the favored teams at the Wapakoneta district and both picked up wins on Tuesday in semifinal action.
The Wildcats' balance on offense and solid defense was enough to down Hardin Northern, 51-38, while the Indians dazzled the crowd with their three-point shooting en route to a 58-48 victory over Ada.
Minster (18-4), which won the regular season meeting between the two MAC rivals, and Fort Recovery (14-8) will tip-off on Friday night at 7 p.m.
Minster 51, Hardin Northern 38
Minster's defense helped pave the way for the Wildcats as coach Mike Lee felt his squad could gain an advantage by pressuring the Hardin Northern guards.
The result: Minster forced 24 Hardin Northern turnovers, many of which led to easy baskets for the Wildcats on the offensive end of the floor.
"Our method to madness this season has been to get the tempo of the game in our favor with pressure defense and I think that at times we were successful doing that tonight," said Lee. "We had trouble getting going on offense but our defense helped us out and gave us a few easy opportunities and we limited their offensive possessions. We wanted to keep them out of the half-court offense because of their size and we felt that we could have success pressuring their guards."
As it has been for most of the season, the Wildcats once again relied on a balanced offensive attack.
Andy Beckman led Minster with 11 points while teammates Dane Sommer and Zac Boeke added 10 points apiece.
The Minster balance off-set a strong individual performance by the Polar Bears' Damien Plaugher. Plaugher was held under his team-best 24.7 points per game average, but the senior forward still had 19 points and 19 rebounds.
Minster, not a team blessed with much size, had lone post presence Justin Spillers in foul trouble for nearly the entire contest and Lee tried just about everyone to try and slow Plaugher down in the post.
"When Justin got into foul trouble we went with plan B and then we ended up going to plan C and down the line," said Lee. "You never expect that to happen but our kids never hung their heads and we fought through the foul trouble adversity all night.
The Wildcats held a steady lead for most of the game, but the Polar Bears never allowed the deficit to reach more than eight points in the first half.
Sommer hit just 3-of-13 shots from the field in the game, but hit a trey to open the second half and was then followed by a deuce from Beckman as the lead hit 11 points forcing a Hardin Northern timeout.
"It wasn't a big run, but when we came out in the second half and hit two quick baskets. I think that gave us a little bit of a cushion that we were able to sustain it," said Lee.
The Polar Bears never got any closer than seven points the rest of the game.

Fort Recovery 58, Ada 48
It was a good thing that Fort Recovery found its hot stroke from three-point range against Ada, because the Indians needed every last one of them according to head coach Brian Patch.
"In a game like this, every little possession matters and they battled back each time that we got up by a few points and we knew that they would do that," said Patch. "They shoot the ball well and they play great defense, so we knew that we would have to play well the whole way to get the win. It got to a two-point lead but we made a couple of big plays down the stretch for the win. We needed everyone of those points that we scored early on."
Fort Recovery shot just 18-of-46 from the field (39 percent) and just 9-of-33 (27 percent) from inside the three-point arc so it's a good thing for the Indians that they shot 9-of-13 (69 percent) from three-point range.
Travis VanSkyock led all scorers in the game with 23 points while enjoying the hot hand from long range. VanSkyock hit 8-of-10 from the field, including 6-of-7 from beyond the three-point arc while grabbing five rebounds.
None of VanSkyock's shot were bigger than the three he hit with 1:22 left on the clock to push a three-point Indians lead to a 54-48 advantage.
"Travis had the hot hand tonight but we got away from getting him the ball in the second half until he hit the big three late in the game," said Patch. "That was a huge shot because that pushed our lead a little bit and gave us some confidence down the stretch."
Fort Recovery's Sean Kahlig, who had a double-double with 13 points and 11 rebounds, then fouled out of the game on the next possession for Ada but the Indians defense held tough down the stretch.
Dusty Tobe hit a pair of free throws following an Ada turnover with 48 seconds left on the clock and Tyler Wuebker added a layup before the buzzer sounded as the Bulldogs were unable to score in the final 1:52 of the contest. Dusty Tobe joined VanSkyock and Kahlig in double figures with 10 points to go along with six rebounds.
Phone: (419)586-2371, Fax: (419)586-6271
All content copyright 2005
The Standard Printing Company
P.O. Box 140, Celina, OH 45822