By Gary R. Rasberry
grasberry@dailystandard.com
VANDALIA -- Survival.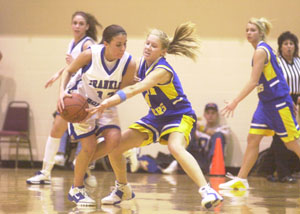 That was the word of the night that Marion Local coach Treva Fortkamp shared with her team after Thursday's Division IV regional semifinal game against Franklin-Monroe.
The Flyers survived one of their most sluggish starts this season and came alive in the second half to survive the Jets, 61-51, at the Student Activity Center at Vandalia-Butler High School.
The win keeps Marion perfect at 24-0 on the season and sets up a highly-anticipated regional final against 23-1 Xenia Christian on Saturday at 7:30 p.m. at the SAC. The Lady Ambassadors advanced after holding off Fort Loramie 43-37 after XC led 16-0 after one quarter.
Survival was the appropriate word as the Flyers committed seven costly turnovers in the first half. Even more, the hot shooting that saw Marion hit 76 percent of its shots against Minster last Saturday was not visible on Thursday. The Flyers were 8-of-31 in the first half (25.8 percent) and finished 19-of-56 (33.9 percent). Fortkamp, known not to mince words, came up with the appropriate line of the night.
"Saturday, we could have thrown it in a toilet, we were that accurate," said Fortkamp. "Tonight we couldn't have thrown it in the ocean."
After a few minutes of back-and-forth scoring, Franklin-Monroe scored the last five points of the first quarter to go up 13-8. Abbey Davenport hit a three-pointer with 1:47 left to break a tie, then hit a pair of free throws to put the Jets up. Things didn't look much better early in the second as the Flyers managed just one point in the first two minutes. The Jets were up 17-9 before the Flyers began to find their shooting stroke.
After a Holly Fortkamp jumper, Maria Moeller laced a three-pointer with 5:30 to go making it 17-14. Andrea Pohlman added a stickback a minute later to cut it to 17-16, but Davenport and Amy Spitler each hit a quick bucket to push the lead back up to 21-16. Both teams scored 12 points in the second quarter to keep it a five-point game at the half.
"I think they were attacking us and we were standing," said Fortkamp of what she thought the Jets were doing right. "They were moving the ball well, shot well and rebounded well. They had all facets of the game. I told the girls at halftime we were lucky just to be down five. I felt very fortunate."
"That was the gameplan," said Jets coach Ned Gray about attacking the Flyers. "We're going to go right at them."
Marion began its push from the get-go of the third quarter. Jenna Barhorst got a stickback to start the quarter making it a three-point game. After a Jet turnover, Kelli Stucke canned a three to tie things up. Barhorst added another bunny seconds later to give Marion the lead for the first time since the first half.
Franklin-Monroe quickly scored eight of the next nine points as Davenport, Elaina Kakatolis and Courtney Oswalt scored to put Jets' the lead at 33-28. Marion retook the lead with 1:56 left in the quarter as Moeller made good on a three-point play to make it 35-33, in favor of the Flyers. Pohlman added a bucket of her own to make it 37-33 before Franklin-Monroe freshman Mara Howell hit a three-pointer to cut it to a 37-36 advantage at the end of three quarters.
The Flyers began getting the ball into Barhorst and Pohlman in the fourth quarter when Kakatolis got into foul trouble. Kakatolis fouled out with 4:56 left in the game, taking away a key post player in the 6-2 senior.
The Jets were able to tie the score at 45-all with 4:40 left in the game and then things looked troubling for Marion when Moeller picked up her fourth foul at the 4:23 mark with the Flyers clinging to a 47-45 lead. Moeller did not back down, scoring to make it a four-point game with four minutes left while Pohlman and Fortkamp added a free throw each to make it a six-point lead for the Flyers.
Stucke hit all four of her attempts in the final 48.8 seconds to help pull away.
"I don't think they changed a whole lot," said Gray when asked if he saw anything different from the Flyers in the second half. "A couple of girls stepped up and hit a couple of threes. They're a good ballclub."
"Last two games we struggled from there," said Fortkamp of the foul shooting. "We'll work on that, that's for sure. That's very important.
"That's exactly the word we used: survival. It doesn't matter how it happens, a W is a W. Hats off to Franklin-Monroe. They played extremely well. They had a good game play and came right at us."
Moeller stayed in the game after picking up her fourth foul and finished with a game-high 20 points. Barhorst came up with 14 points and 13 rebounds.
Davenport led Franklin-Monroe with 14 points while Howell added 12 with Oswalt finishing with 14.
MARION TICKET INFORMATION -- Tickets for Saturday's Division IV regional final will be on sale from 5 to 7 p.m. tonight in the high school office and from 9 to 10:30 a.m. on Saturday at the high school office. No tickets will be sold at the school after 10:30 a.m. on Saturday. Tickets are $6 for adults and $5 for students and all tickets at the door are $6.
Phone: (419)586-2371, Fax: (419)586-6271
All content copyright 2005
The Standard Printing Company
P.O. Box 140, Celina, OH 45822